01/27/2018
FMI Honors Grocery Leaders with Annual Awards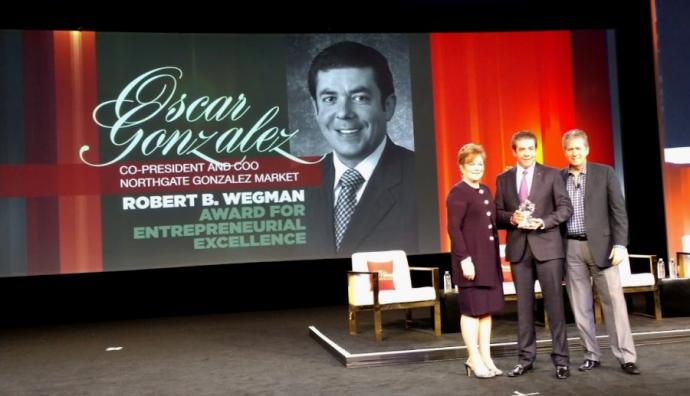 The Food Marketing Institute (FMI) bestowed awards at its annual Midwinter Executive Conference to three industry leaders who demonstrate the commitment the food retail industry shares with people and communities.
Oscar Gonzalez, co-president and COO of Southern California's Northgate Gonzalez Markets, received FMI's Robert B. Wegman Award for Entrepreneurial Excellence. Jerry Garland, former president and CEO of Associated Wholesale Grocers Inc., was presented with the Sidney R. Rabb Award for Statesmanship. Irene Rosenfeld, chairman of Mondelez International, received the William H. Albers Award for Industry Relations.
The awards were presented Jan. 27 during FMI's annual conference in Doral, Fla.
"Our industry is rooted in a commitment to people and communities. It shines through the food, the service and the support we provide," said FMI President and CEO Leslie G. Sarasin. "Visionaries who blazed new trails in their day established a noble legacy – a legacy that thrives and continues in the work of today's esteemed industry leaders."
Robert B. Wegman Award
This year's 2018 award winner, Oscar Gonzalez, adds another chapter in the heritage of entrepreneurial leadership. Co-owner of Northgate Markets, the largest chain of Mexican supermarkets in the U.S., Gonzalez has further transformed the store. Today, Northgate Markets develops their own high-quality brands and the innovative business even touts departments specializing in technology to design and construction. And, under Gonzalez's leadership, the company created programs focused on education, healthy eating options and community empowerment.
"All of us are reinventing ourselves to find what we need to do to succeed and win," Gonzalez said in his remarks upon accepting the award.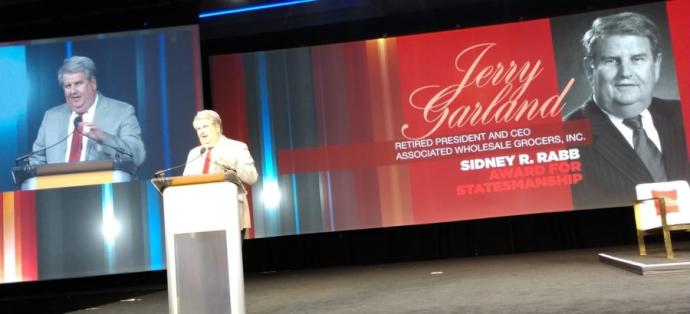 Sidney R. Rabb Award
Throughout his career, Jerry Garland has built relationships among trading partners and elected officials, advocating for independent supermarket operators along the way. During his tenure at the cooperative Associated Wholesale Grocers, Garland once said, "I have 633 bosses – all retailers." His commitment to shared success led to AWG's increased revenue, decreased operating expenses, and funds paid back to member stores and their communities.
Garland served as FMI's board chairman during one of the most regulatory-laden times in our history, most notably working with FMI to navigate the biggest change to the food safety system in 70 years, the Food Safety Modernization Act.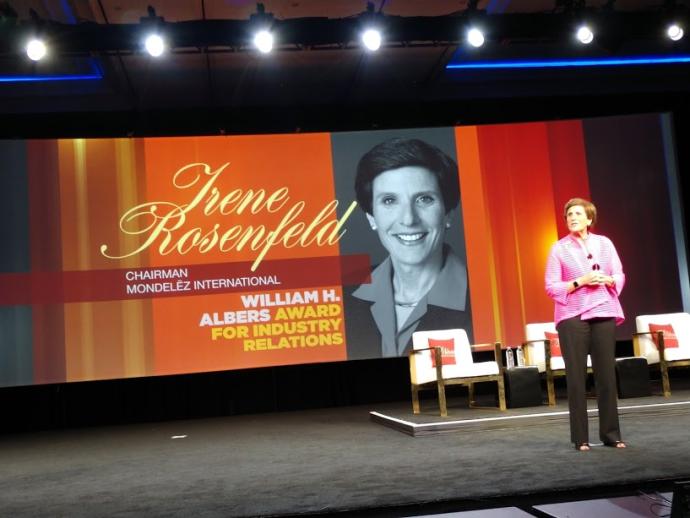 William H. Albers Award
Crediting her strong sports background as a key factor in her leadership development, Irene Rosenfeld is known for her staff-building skills and determination. She has led her teams to breathe new life into established brands and create the world's greatest snacking company, formed by the splitting up of Kraft Foods. Her pioneering efforts have propelled her to be one of only 32 female leaders among the U.S.'s 500 largest companies.
"It's important that we continue to find ways to work together to create in-store experiences for the brands that consumers want," Rosenfeld remarked upon accepting her award.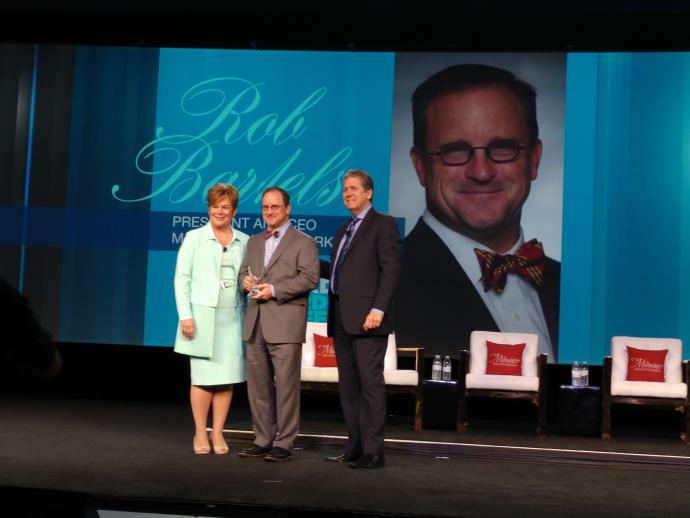 Glen P. Woodard Jr. Award
As president and CEO of Martin's Super Markets, Rob Bartels embraces competition and has earned the trust and loyalty of his customer base. Last year, when a tax bill that could leave small businesses at a disadvantage to large corporations was advancing through Congress, he became a strong voice for independent grocers. Bartels has long represented the interests of food retailers on Capitol Hill and in his home state of Indiana, holding leadership roles in FMI for more than a decade. He's demonstrated both with lawmakers and with shoppers that he can respond with empathy.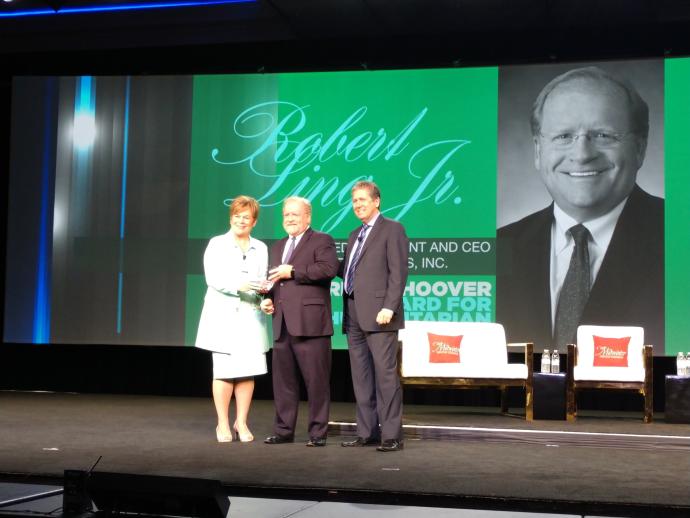 Herbert Hoover Award
Robert Ling Jr., the retired president and CEO of Unified Grocers Inc., has striven to understand all aspects of food retail, both the issues that face the industry and opportunities that allow it to better serve its customers. Ling has built solid relationships with Unified Grocers' members, vendors and associates. He also spearheaded the merger of Unified Grocers and Supervalu; the combined company now offers value-added benefits and serves broad range of independent grocers, helping them better compete in a changing marketplace.
FMI advocates on behalf of the food retail industry, which employs nearly 5 million workers and represents a combined annual sales volume of almost $800 billion. FMI member companies operate nearly 33,000 retail food stores and 12,000 pharmacies.