First Miss Cheerwine Hits the Road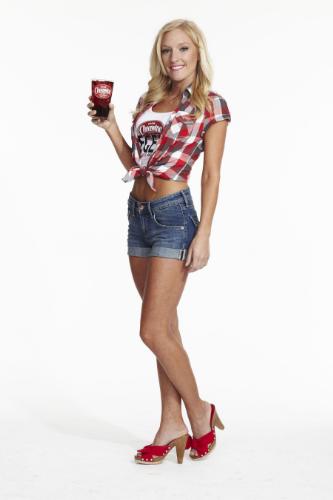 Cheerwine has introduced its first Miss Cheerwine, a brand ambassador who will represent the iconic regional beverage across the South this summer. Selected from a pool of candidates to hold the title, 23-year-old Spencer Cummings (left) will headline the Miss Cheerwine Summer Legend Tour.
Cummings' brief will be to spread good cheer, meet Cheerwine fans and offer the fizzy soft drink from the Cheerwine Tour Van on its travels through the South, stopping at events and concerts from June through August. The tour began June 3 in Raleigh-Durham, N.C.
A longtime Cheerwine fan originally from High Point, N.C., Cummings grew up near Salisbury, N.C., the beverage's hometown. The University of Alabama graduate currently lives in Chattanooga, Tenn., where Cheerwine has recently become available.
"Born and bred a North Carolina girl, I introduced all of my friends and college roommates to the drink and brought back cases of Cheerwine before we could buy it in Chattanooga, so I feel I've been an ambassador all my life," noted Cummings. "I can't wait to communicate my true love for Cheerwine and put a smile on people's faces with the Cheerwine experience this summer."
"Spencer has all of the qualities we were looking for in a brand ambassador," added VP of marketing Tom Barbitta, VP of marketing at Cheerwine, which was introduced in 1917 by L.D. Peeler, and is owned and distributed by the Carolina Beverage Corp. and Cheerwine Bottling Co. "She's smart, she's sweet, she's personable [and] she's a true fan."
For a complete schedule of the Miss Cheerwine Summer Legend Tour, consumers can visit Facebook.com/Cheerwine.