DVD/Blu-ray Release of 'Shrek Forever After' Gets Hostess Tie-in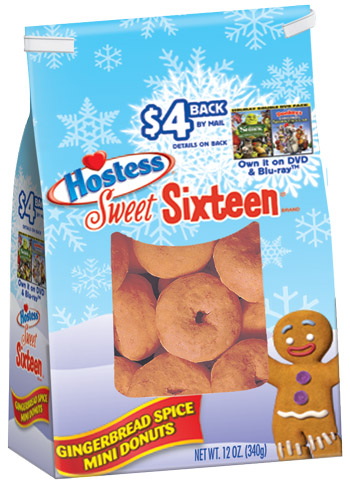 Famous snack cake brand Hostess has joined forces with Glendale, Calif.-based DreamWorks Animation SKG Inc. on limited-edition themed products to mark the holiday-timed arrival of "Shrek Forever After" on DVD and Blu-ray.
Under the promotion, Hostess has introduced gingerbread spice Donettes in special packages featuring the character Gingy, and cherry sweet rolls in packages adorned with the smooth-talking dealmaker Rumpelstiltskin. Other Donettes varieties will boast special "Shrek"-related holiday packages starring Shrek himself and the well-liked Donkey and Puss In Boots characters.
Further, through Jan. 14, 2011, Hostess is offering a $4 rebate to consumers who buy two multi-packs of the brand's products and a "Shrek Forever After" DVD or Blu-ray. Shoppers can visit www.hostesscakes.com for more information.
"We think consumers will enjoy trying the delicious and convenient new additions to our great-tasting line of breakfast treats throughout the busy holiday season," said Mike Touhey, VP of snack marketing at Irving, Texas-based Hostess Brands Inc., which also makes baked goods under the Wonder, Merita, Home Pride, Nature's Pride, Hostess, Drake's and Dolly Madison brands.
The Dec. 7 debut of "Shrek Forever After" on DVD and Blu-ray coincided with the release of "Shrek: The Whole Story," a DVD or Blu-ray collection encompassing the entire "Shrek" saga. All four discs in the collection include hours of all-new extras in addition to the brand new, limited-edition "Donkey's Christmas Shrektacular."