Dos Equis Up to New 'Tricks' for Halloween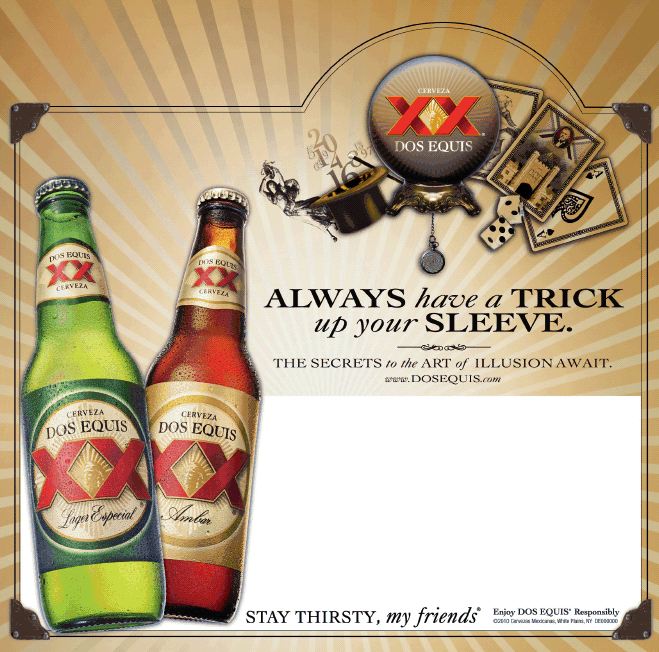 Capitalizing on its popular "Most Interesting Man" campaign and a successful 2009 fall program, Dos Equis is rolling out the 2010 version of "Most Interesting Tricks," which enables consumers 21 and older to amaze fellow celebrants this All Hallows Eve with magic tricks inspired by the Most Interesting Man while giving retailers the ability to levitate sales of the beer brand.
"Last year, we introduced the Dos Equis Most Interesting Tricks Halloween program and the results were tremendous -- beyond expectation," noted Paul Smailes, brand director on Dos Equis at White Plains, N.Y.-based Heineken USA. "This year, we are refreshing the program to further increase display activation, purchase intent and drive trial of Dos Equis Lager and Ambar. Adult consumers are increasingly looking to Halloween as a time to let loose and have fun, and this initiative appeals to the trickster in us all. The Most Interesting Tricks program includes all of the elements consumers need to make their Halloween party more interesting and provides our retail … partners clever and mysterious Halloween-themed merchandising and POS materials to offer their customers added value while consistently improving their own bottom line."
This month, consumers can cash in on special offers from Dos Equis at their liquor, grocery and c-store retail operators. Mass Most Interesting Tricks displays create engaging in-store destinations that promote the Dos Equis brand and bolster retailer sales growth during the season.
Continued Smailes: "For Dos Equis consumers, Halloween is all about interesting, and the Dos Equis Most Interesting Tricks program will, once again, capture consumers' attention, provide an engaging on-premise experience and provide them with everything they need to host the most entertaining and fun Halloween gathering, ultimately helping the trade maintain their strong sales momentum on this great brand."