Dierbergs Best Bagger Advances to State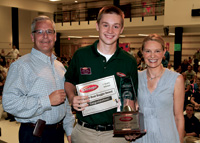 Dierbergs Best Bagger Advances to State
David Frazier, an 18-year-old Courtesy Clerk from Dierbergs' 79 Crossing store, has won the Dierbergs Best Bagger award and will advance to the state competition in Branson, Mo., in October.
"The competition was a lot bigger than I thought," said Frazier, who graduated from Fort Zumwalt East High School this past spring. "I couldn't believe all the people who showed up to watch – it was crazy."
While the St. Louis heat raged outside, it was even hotter inside Marquette High School last Tuesday evening during the competition, when Frazier bagged 31 items in just under 30 seconds. He competed against 22 other baggers, one from each Dierbergs store. Baggers used reusable bags and were judged on speed, bag-building technique, weight distribution, attitude and appearance.
"I am so proud of David," said Dawn Riley, David's in-store trainer and Dierbergs checklane supervisor. "He worked hard, and it's great to see him recognized for his efforts."
State-level winners will compete at the national contest in Las Vegas in February 2011.
Because Dierbergs Markets considers baggers such an important aspect of overall customer service, the company calls its baggers "courtesy clerks." That's why Dierbergs president and CEO Greg Dierberg feels this competition is so significant.
"The courtesy clerk is one of the most valuable customer service positions in our company," observed Dierberg. "We're proud of the outstanding job our courtesy clerks perform in our stores, and the best bagger contest is a great way of recognizing and proving their efforts."
Dierbergs employs nearly 4,000 associates in 23 stores in St. Louis and St. Charles counties, and Shiloh and Edwardsville, Ill.