Coinstar Clinches Coffee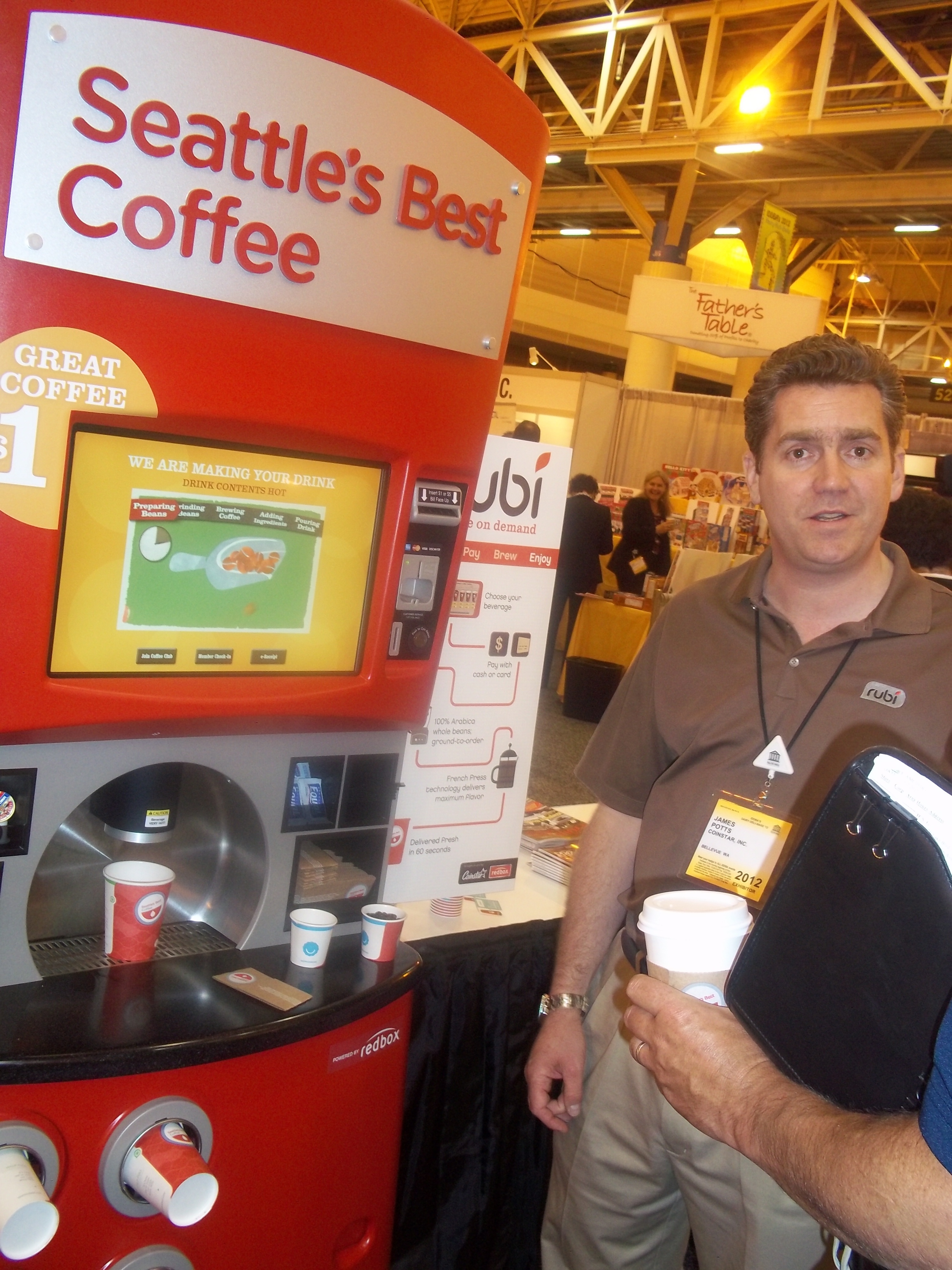 First coins, then movies, now coffee.
The folks at Coinstar, who brought coin-counting machines and Redbox automated DVD rental units to grocery stores, have come up with a new high-tech way for supermarket shoppers to enjoy good coffee.
"Given the number of people coming through their doors, they needed a good coffee solution," Ken Redding, VP/GM or coffee and beverages at the Bellevue, Wash.-based company, said of grocers.
Coinstar just may have found that solution in Rubi, the company's new coffee platform unveiled at the IDDBA show in New Orleans earlier this month. The platform can be customized to meet each retailer's needs, Redding noted. "We've taken the same complexity [of the Redbox machinery] and applied it here, from bean to cup," he said.
Partnered with Starbucks' Seattle's Best brand, the Rubi machines present users with a touchscreen, on which they choose their beverage type and combination (cream, sugar, flavorings), and pay with cash or credit card. The coffee, made with 100 percent Arabica beans, is ground to order, brewed using French press technology and ready in 60 seconds. Users can sign up for a frequent-customer account, which will remember your last selection every time you order again. Redding said accounts will eventually be linked to users' smartphones for faster ordering.
Coinstar installs, stocks and manages the machines, and pays rent to the retailers for the space. The machines may eventually be expanded beyond coffee to vend other products.
"We see a big opportunity," Redding said, noting the machines have been tested to great success at stores in the Seattle, San Francisco and Washington, D.C., metro areas, including Albertstons, WinCo, Safeway and Harris Teeter. "The operators of the stores love this. … These machines are stable and consistent."
Rubi machines are expected to hit New York, Boston, Chicago and Southern California before the end of the year.
IN THE PHOTO: Coinstar's James Potts demonstrates the new Rubi automated coffee platform at the recent IDDBA show in New Orleans.