Coca-Cola Racks Up Green Cred With Retailers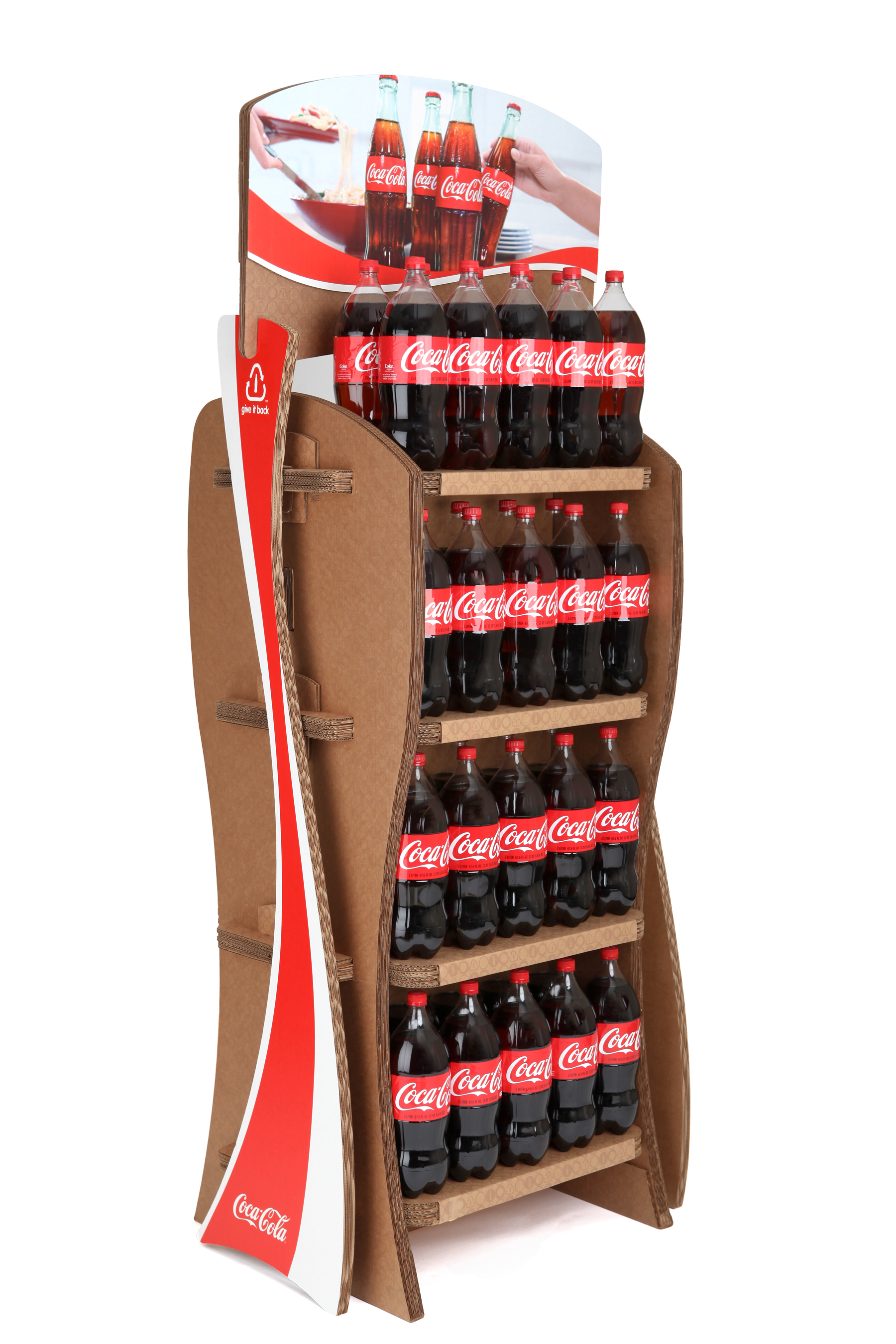 As a way to expand its already prodigious sustainability initiatives, the Coca-Cola Co. is developing a series of 100 percent recyclable merchandise display racks for U.S. grocery and convenience stores in the U.S. Made of easily recyclable corrugated cardboard, the free-standing GIVE IT BACK racks aim to communicate a strong sustainability message to customers.
The racks are the first step toward a comprehensive, closed-loop retail equipment program in which Atlanta-based Coca-Cola creates recyclable in-store merchandise racks and then recovers, reuses and/or recycles them.
"Coca-Cola recovered 400 million pounds of cans and bottles in the U.S. in 2010, yet we want to do more," noted Gary Wygant, VP, business development, Coca-Cola Recycling. "By creating a 100 percent recyclable merchandise display rack, Coca-Cola is asking grocery and convenience stores to join our sustainability efforts by returning or recycling our racks, just like we ask consumers to return or recycle our product packaging."
Now being tested in select markets, the racks should become widely available by the end of the year. When fully implemented across Coca-Cola's U.S. operations, the closed-loop merchandise display rack recovery system is expected to the first and largest such program in the U.S. consumer packaged goods industry, according to the soft drink giant.
In the wake of the corrugate merchandise racks, further recyclable displays coming from Coca-Cola include a rack made entirely of recycled PET plastic.
"Sustainability is core to our business, so we want to demonstrate this commitment to our customers and consumers at every level," explained Bruce Karas, director, sustainability and environment, Coca-Cola Refreshments. "These new racks are a great example of how we can find innovative ways to make our equipment both sustainable and part of the shopping experience. With the GIVE IT BACK rack, we're helping people feel good about their purchasing decisions as we work towards our overall sustainability goals."
Currently, Coca-Cola diverts, on average, more than 90 percent of its waste at its main U.S. manufacturing facilities.
The company has a 2020 goal to attain industry leadership in environmental stewardship in the areas of packaging and related ancillary components such as retail merchandise display racks. According to Hartman Group research, more than 70 percent of consumers consider sustainability when making a purchase.