Click-and-Collect Means Maintaining Proper Temperatures
Get great content like this right in your inbox.
Subscribe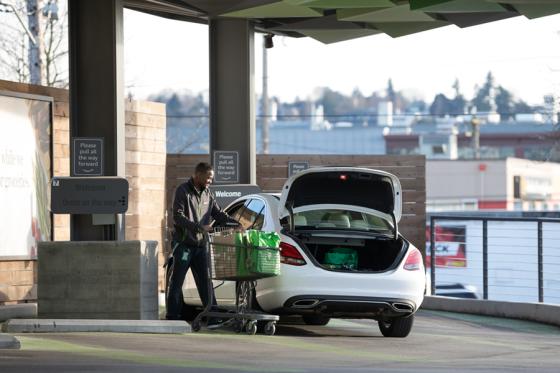 There are considerable risks for food retailers entering the click-and-collect arena, not only in establishing consumer confidence, but also in delivering food safely and at maximum quality. To successfully fulfill this business model, retailers must maintain the appropriate product temperatures and conditions, from the cold room or refrigerated locker to final delivery to the consumer's vehicle.
It's equally important to remember that this business model comes with high consumer expectations. Because they can't see, smell or touch the food they're buying, consumers are putting their complete trust in a grocer's ability to deliver what they're used to selecting for themselves. These expectations are especially important when it comes to fresh perishable items, where deviations in ideal holding temperatures may quickly impair food quality and safety.
A grocer's reputation can hinge directly on its ability to meet these food quality standards. One negative experience may erode consumer confidence, spread through word of mouth and inflict long-term damage on a brand. When executed flawlessly, however, a positive click-and-collect fulfillment process can result in significant business expansion and a thriving new revenue stream.
All of this underscores a major challenge of click-and-collect: Retailers need new or improved refrigeration and fulfillment strategies to ensure that proper temperature and humidity conditions are maintained in these demanding environments.
Smart Controls, Robust Refrigeration Strategies
For food retailers entering the click-and-collect arena, developing a robust refrigeration strategy is a crucial part of ensuring the safety and quality of their click-and-collect offerings. Doing so will require facilities and systems to be specifically designed to help retailers create reliable cold-storage and staging areas. Those that don't currently have this infrastructure in place may need to consider facility expansion and a reliable refrigeration infrastructure that's capable not only of supporting low- and medium-temperature requirements, but also of addressing the unique demands of click-and-collect fulfillment.
To help ensure the freshness that customers expect, retailers should deploy control systems that help them better manage food quality from the time food enters the store to when it's delivered to the customer. The best available solutions combine facility management and supervisory controls with user-friendly software and mobile apps to deliver always-on, remote temperature monitoring and comprehensive management of store systems and refrigeration.
These controls help enable optimal refrigeration system performance for peak use and energy savings, keeping temperatures low during active fulfillment periods for mission-critical food preservation while adjusting temperatures back up to save energy during low-use hours. Monitoring services can detect system performance issues early and notify designated store managers via mobile alerts, enabling them to make informed decisions and quickly take corrective actions.
Control systems also capture an abundance of data to assist with record-keeping and provide key performance metrics related to temperature, humidity, cold-locker access frequency and click-and-collect program management.
In terms of refrigeration strategies, self-contained outdoor condensing units (OCUs) can be ideal for adding refrigeration capacity to new cold-storage areas without affecting a facility's existing centralized refrigeration architecture. Modern OCUs are also equipped to address difficult setpoint and humidity challenges.
With their compact designs allowing for greater installation flexibility, today's OCUs combine advanced components and onboard controls to help deliver precise temperatures, even in difficult operating conditions. Where industry averages once settled for 15 percent setpoint temperature deviation — which may not provide the quality needed to support click-and-collect — new OCUs deliver minimal temperature deviations from desired setpoints.
Based on proven scroll-compression technology, these units deliver consistent reliability across a wide range of capacities (from 0.75 to 6 HP) to meet a variety of operational requirements. The addition of electronic expansion valves, digital compression technology and specialized load-matching algorithms enables precise capacity modulation to match compressor capacity to fluctuating refrigeration loads during peak delivery periods.
To help ensure the freshness that customers expect, retailers should deploy control systems that help them better manage food quality from the time food enters the store to when it's delivered to the customer.
To help operators achieve their sustainability goals without the operational challenges of moving to a completely new refrigerant technology, the latest OCUs also provide compatibility with alternative, low-global-warming-potential (GWP) hydrofluorocarbon (HFC) refrigerants such as R-407 C/A, R-448A, and R-449A, R-513A and R-450A.
Advanced condensing-unit controls provide demand-driven defrost cycles and humidity management to help combat repeated door openings of cold-storage rooms and refrigerated lockers. Pressure, power-monitoring and unit controls are also built in.  Seamless integration with facility management controllers enables remote monitoring and predictive diagnostics to help operators quickly respond to, and even potentially pre-empt, refrigeration faults or disruptions in performance.
To help maximize energy efficiencies, today's OCUs are equipped with controls and electronic expansion valves to enable low-condensing refrigeration by allowing the head pressure to float with changes in ambient temperatures. This proven energy-saving method also increases compressor capacity, reduces wear and further improves temperate pull-down rates.
Click-and-collect represents a tremendous growth opportunity for food retailers as consumers continue to embrace online grocery shopping. To succeed in this competitive arena, earn customer loyalty and capture market share, retailers will likely need to delight their customers with every transaction. With smart controls and robust refrigeration strategies, retailers can deliver a seamless click-and-collect experience by ensuring consistency, freshness and quality with every order.