Cecelia Shows Its Dimples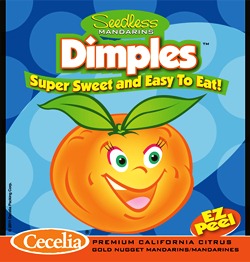 An illustrated character known as Dimples has been introduced on Cecelia Packing Corp.'s Golden Nugget Mandarin Orange packaging, with the aim of charming both youngsters and old-timers into better eating habits.
The Dimples Premium label aims to draw kids' attention, since Cecelia notes that a child is more likely to eat a healthy food he or she believes to be interesting and entertaining, What's more, Dimples' sweet, easy-to-peel fruit is just the right size for lunchbox and after-school snacks.
"Our goal is to get kids to eat more fruit, and introducing Dimples is a delicious and fun way to accomplish that," explained Randy Jacobson, sales manager for Orange Grove, Calif.-based Cecelia, adding that response to the Dimples program has already been overwhelmingly positive this first year, and the grower plans to expand it to meet demand.
Encompassing more than 4,500 acres of quality orchards, Cecelia's product output includes Minneola Tangelos, Tangerines and Cara Caras.