Cargill Program Ties Ground Beef, Private Label Soups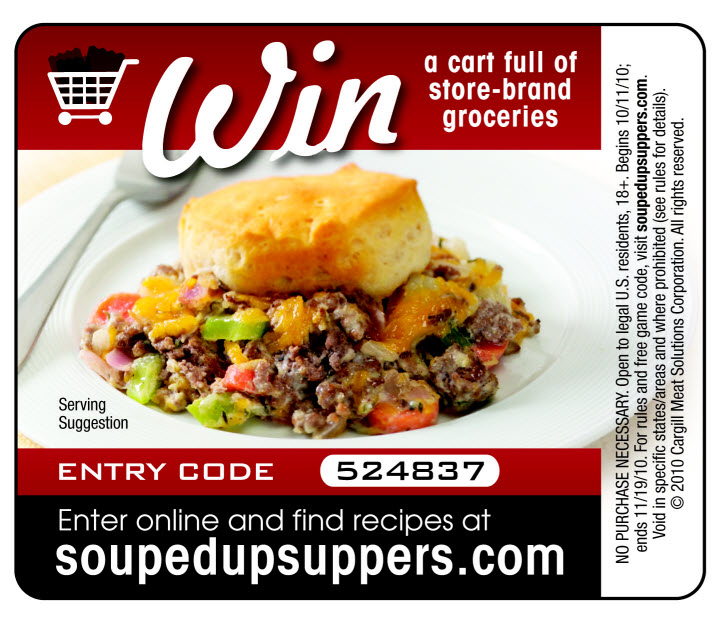 The fall 2010 retail ground beef promotion from Cargill places increasingly popular private label products squarely in the spotlight. Running through Nov. 19, "Souped-Up Suppers" pairs Wichita, Kan.-based company's ground beef with retailers' private label soups to offer shoppers easy, inexpensive but filling casserole recipes.
The promotion rolled out at more than 1,700 grocery stores across the United States. As evidence of just how important the marketing and selling of private label products has become, Souped-Up Suppers attracted one of the largest grocer participations since Cargill began developing ground beef promotions, the company noted.
According to Cargill brand manager Elizabeth Gutschenritter: "We developed the Souped-Up Suppers promotion based on consumer trends and in response to retailer demand for customized promotions that help sell not only more ground beef, but also other complementary products, especially their own. As we design promotions, it's about listening to and being responsive to our customers, focusing on their business strategy and supporting those retailers from a marketing perspective as well."
In-store Souped-Up Suppers materials urge consumer interaction and consist of large posters, 90-degree signs, on-pack stickers and recipe brochures. Recipes featuring ground beef and retailers' private label soups include Creamy Italian Pasta Bake, Southwestern Cornbread Casserole and Beefy Biscuit Casserole.
Additionally, the SoupedUpSuppers.com website provides store-brand ground beef coupons and access to other recipes including ground beef and soup, in addition to entry for a prize giveaway of a cart full of store-brand groceries, which aims to drive the winning shoppers back to the retail location.
Further promotional backing from Cargill comes through a variety of other promotional tools, among them prewritten content for Facebook and Twitter, CDs containing promotional materials, and web banners. Also, as a way to encourage employee engagement in the promotion and display of point-of-sale materials at the individual store level, the company has introduced an employee incentive sweepstakes in which participating retailers submit photos of Souped-Up Suppers displays in their stores, and as a result, meat department employees are entered into a random sweepstakes drawing.