Brooklyn's Perelandra to Open Kitchen & Juice Bar
Get great content like this right in your inbox.
Subscribe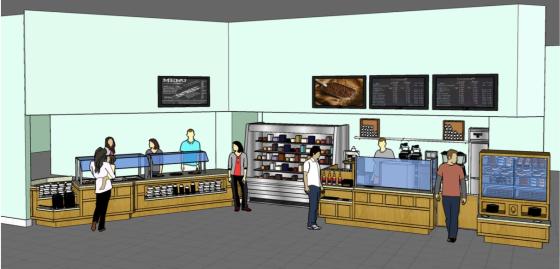 Perelandra, a natural and organic food store in Brooklyn, N.Y., is opening its new 650-square-foot Kitchen & Juice Bar on April 9. The new kitchen will offer a fresh menu of all plant-based, kosher-certified offerings, of which a minimum of 95 percent of the ingredients used are certified organic.
The Perelandra Kitchen & Juice Bar features a hot bar buffet, a made-to-order sandwich counter, a prepared meal grab-and-go kiosk, an organic coffee bar, a self-serve pastry case, and a fresh juice and smoothie bar. The wide-ranging and diverse selection of natural prepared offerings is made fresh daily.
"This is the first major renovation Perelandra has done in close to 20 years," said Allison Buckingham, co-owner, "and we are so excited to bring an even bigger array of delicious, high-quality, organic foods to Brooklyn Heights."
Kitchen Manager Aly Weigle has created100 percent plant-based dishes using minimally processed ingredients. The hot bar menu includes Chickpea-vegetable frittata and Hoppin' John with cauliflower "rice," while the sandwich bar offers gluten-free selections such as Smoky Pulled Jackfruit, with red cabbage avocado slaw, pickles and cashew queso on a toasted gluten-free bun.
The prepared meal grab-and-go kiosk features more than 50 options made fresh daily in-house, among them salads, sandwiches, dips, dressings, entrees and desserts, and the  baked goods and pastry case offers a variety of freshly baked, plant-based products like root vegetable muffins, banana chocolate chip coconut muffins, chocolate chip cookies, black bean brownies, zucchini bread, coffee cake and seasonal fruit crisp.
The coffee counter in the new Kitchen & Juice Bar serves certified-organic coffee drinks, made with Counter Culture organic direct-trade coffee (Cappuccinos, Macchiato, Americanos, etc.), along with matcha tea, chai lattes and more. The Juice & Smoothie bar features 14 organic smoothie options and 12 organic juice options, with the ability for customers to create their own smoothie or juice from more than 45 certified-organic ingredients. 
Perelandra is also committed to the community: 100 percent of the packaging used for the prepared food and hot-bar items are easily recyclable, and all prepared foods that aren't sold will be picked up nightly by Big Apple nonprofit Rescuing Leftover Cuisine and brought to shelters to feed hungry New Yorkers that same night.