Breyers Seeks the Scoop on New Sundaes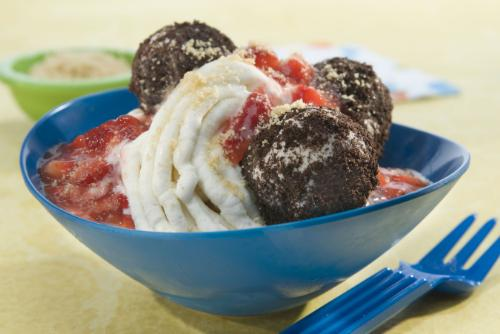 Iconic ice cream brand Breyers is searching for more entries to add to the Ice Cream Sundae Hall of Fame through the Sundae Scoop-Off Contest. Aided by celebrated pastry chef Gale Gand and ice cream fans across the United States, the promotion will elevate the most innovative twists on the classic sundae recipe to national prominence.
Running until Sept. 13, the contest invites consumers to come up with ice cream sundae recipes including 10 or fewer ingredients. Entrants can submit recipes at www.breyers.com for the opportunity to win $10,000, a trip to Chicago to have a private cooking lesson with Gand and a year of free Breyers ice cream.
Recipes will be rated according to taste, creativity, use of Breyers ice cream, and presentation. As well as judging the Sundae Scoop-Off Contest, Gand has created a variety of appropriate recipes, among them the Snow Ball Sundae, the Spaghetti and Meatball Sundae, Ice Cream Lollipops and the Mini Coffee Ice Cream Sundae, and provided her top 10 tips for sundae making, which include using two or more ice cream flavors to add more flavor and flair, and rolling ice cream scoops in cookie crumbs, crunched cereal or chocolate milk powder to create an ice cream "truffle." The partnership between chef and brand continues into the fall, with Bravo's forthcoming "Top Chef Just Desserts," on which Gand will serve as a guest judge, while Breyers All Natural Ice Cream is aboard as the series' exclusive ice cream partner.
Additionally, Breyers, a brand of Englewood Cliffs, N.J.-based Unilever, has hit the road to collaborate with popular local chefs on signature ice cream sundae recipes. The Sundae Showcase will visit eight cities through Sept. 11, including Richmond, Va.; Nashville, Tenn.; Louisville, Ky.; and Indianapolis. While at the tour events, families can cool off with free scoops of Breyers Original All Natural Chocolate Chip Cookie Dough or Homemade Vanilla ice cream, while supplies last; exercise their creativity at the build-your-own sundae bar; and enjoy games, entertainment and chef sundae demos.
More information is available at www.breyers.com or www.facebook.com/breyers.