Bi-Lo/Winn-Dixie Raises Funds to Fight Breast Cancer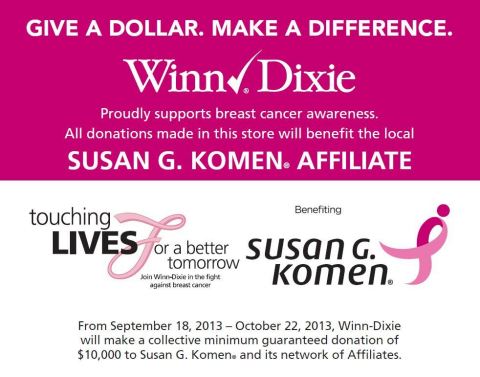 Bi-Lo/Winn-Dixie has launched a community donation program benefiting Susan G. Komen in all of its stores. Through Oct. 22, shoppers can donate at checkout, directly aiding local Komen affiliates in communities served by the Southeast regional banners.
"Bi-Lo recognizes the important role that we and our loyal customers can play in making better, stronger communities for everyone," said Melissa Adams, Bi-Lo Holdings' manager of charitable giving. "The partnership with Komen affords us the opportunity to support families in our communities who have been affected by breast cancer, as well as the opportunity to educate and raise awareness of this prevalent disease that affects so many of our neighbors."
"These funds will have a direct impact in the lives of women and men facing breast cancer – our friends, family and neighbors – throughout the southeastern United States," added Chandini Portteus, chief mission officer at Dallas-based Komen.
Bi-Lo LLC and Winn-Dixie Stores Inc. are subsidiaries of Jacksonville, Fla.-based Bi-Lo Holdings, the ninth-largest conventional supermarket chain in the United States. Bi-Lo employs nearly 16,000 associates in 206 grocery stores and 115 in-store pharmacies throughout Georgia, North Carolina, South Carolina and Tennessee. Winn-Dixie employs almost 40,000 associates in 479 grocery stores and 368 in-store pharmacies in Alabama, Florida, Georgia, Louisiana and Mississippi.