Barons Market VP: Why SoCal Grocery Stores Thrive Despite Competition From Amazon
Get great content like this right in your inbox.
Subscribe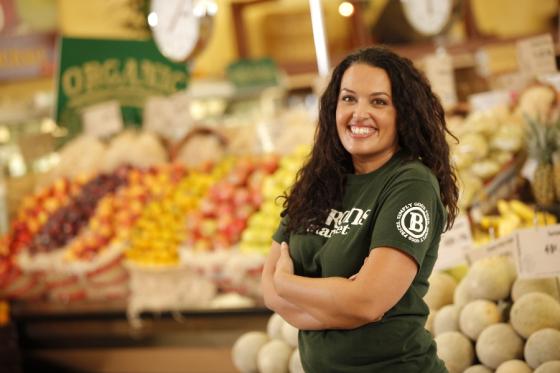 We live in time where nearly everything can be done online. You can take a business class, book your hair appointment and now, thanks to the Amazon-Whole Foods merger, you can even buy organic asparagus – just with the click of a button.
Convenience remains the driving force for this online trend. To many people, buying items online in their pajamas is more ideal than braving grocery store crowds.
I'm a firm believer, however, that people who buy online buy with their heads, and people who buy in stores buy with their hearts. People want to hand-pick the latest batch of local strawberries. The want to touch, see and smell the fresh strawberries for sale, which is something you just can't do on a computer.
You also run the risk of losing out on quality when purchasing groceries online. A lot can happen in the time you click purchase to when your groceries are delivered to your door, leaving you with cracked eggs and a hungry belly.
When I first started as an employee at my father's family-owned grocery store, Barons Market, I worked at the checkout line registers. Every day, I interacted with customers – discussing everything from the most popular snack at Little League games to what they should make for dinner that night. As I began to build relationships with these strangers, I began to understand how important customer interaction was to the overall grocery store experience.
We are not in the food business. We are in the people business. Yes, we were "only" selling food, but the food my family's store was selling was a huge part of our customers' lives.
We are not in the food business. We are in the people business.
Now that I work in the Barons Market corporate office, I receive countless emails and phone calls from customers recounting a recipe they loved at our demo station, or telling us how helpful one of our employees was during their last visit. Customer experience is still very important to people, and it's not going away any time soon. We also get countless requests from local schools and organizations to help where we can, and we do.
With this new ability to purchase groceries online, many people have grown concerned that traditional brick-and-mortar stores will become a thing of the past. But when Amazon bought Whole Foods, it only shook the supermarket industry – it didn't destroy it.
Supermarkets and grocery store chains like Sam's Club and Kroger appear to have been hit the hardest. With an overwhelming selection of products and average pricing models, it seems that these stores have had a hard time keeping their doors open amidst the convenience of online shopping.
Yet independent grocery stores such as Barons Market, Trader Joe's and Sprouts have remained fairly unfazed by this shift, especially in Southern California.
Sprouts recently added an online purchasing option for select locations through a partnership with Instacart. Customers can also order groceries from Trader Joe's through services like Postmates, Envoy, and DoorDash. Most of Sprouts and Trader Joe's customers continue to come into stores to buy groceries, however.
These smaller grocery stores are able to thrive in the thick of innovation because they tailor their stores to provide an overall positive experience for their customers. This is why we're constantly adding new features to our stores. You'll find everything from a hot soup bar, to an olive oil and balsamic vinegar tasting station, to a variety of freshly made grab-and-go entrees. These stores understand that when customers have an easy and exciting grocery shopping experience, they are more likely to come back time and time again.
Another reason that these stores continue to succeed is because Southern California shoppers care about where their products come from. Cities like San Diego and Los Angeles are hot spots for farmers' markets and produce stands where people can support local farms and businesses, as well as enjoy an engaging, outdoor experience.
When Amazon bought Whole Foods, it only shook the supermarket industry – it didn't destroy it.
In my decade of grocery-industry experience, I've found four key components to be most important to a customer while shopping:
Convenience

: Customers want grocery shopping to be fast and easy.

Quality

: The goods customers purchase should be high quality and handpicked by food experts.

Affordability

: Products should be at a reasonable cost for everyone.

Excitement

: Customers are always looking for new and unique products to complement their go-to staples.
Smaller, independent grocery stores understand this, and set their stores up to account for each of these points.
Take Trader Joe's, for example. The grocery chain has a large following because its products are high-quality and affordable. At an average of 15,000 square feet, Trader Joe's stores are much smaller than your average supermarket, at 45,000 square feet.
At Barons Market, we strategically construct our stores to be 16,000 square feet so customers can find what they need in 10 minutes or less.
When these key factors are mixed with innovative store elements such as Sprouts' array of grab-and-go options, Trader Joe's unique product names or Barons Market's constantly changing in-store features, it sets customers up for an exciting shopping experience. These are things you just won't find on your computer screen.
It's because of these factors that smaller grocery stores will continue to flourish in an industry evolving in the age of online shopping. Also, no one's going to judge you for shopping at these stores in your pajamas anyway.