Barhyte Debuts Saucy In-store Display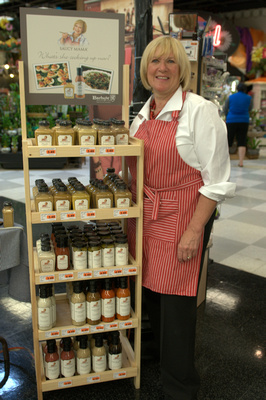 Barhyte Specialty Foods has rolled out its latest profit center for stores: a socially connected, engaging POP display that connects with consumers to deliver high margins and long-term loyalty, according to the Pendleton, Ore.-based manufacturer of specialty sauces and gourmet mustards.
The new Saucy Mama and Tailgate five-shelf display rack (left) stands 67 inches tall and measures just 18.5 inches wide by 13 inches deep, but is large enough to merchandise more than 80 condiment SKUs with margins as high as 35 percent.
The company's display rack program, which includes everything from its Saucy Mama and Tailgate marinades and wing sauces, to mustards, dressings and cocktail condiments, is available for meat departments, service delis, and grocery or bread aisles.
Components of the program include generous demo allowances, easy-to-scan QR (quick response) codes enabling customers to find recipes and other product information; multiple 4-inch-by-6-inch glossy recipe cards with images to promote product usage; discounted wing, marinade and dressing prices with purchases of at least 35 cases; and pallet freight pricing with 35-plus case orders.
For more information, visit www.Barhyte.com.