Baby Carrots Tackle Junk Food During Football Playoffs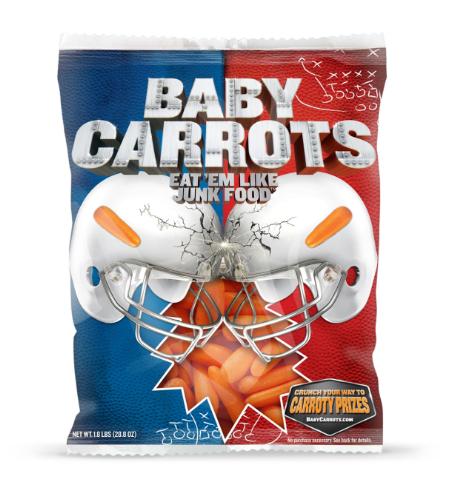 Hoping to wean consumers from junk food, Bakersfield, Calif.-based Bolthouse Farms and the growers' alliance known as "A Bunch of Carrot Farmers" are stepping up their campaign to reposition Baby Carrots as the ultimate alternative snack.
Employing the junk food industry's marketing tactics to satirically humorous effect, the latest phase of the Baby Carrots initiative capitalizes on the heavy-duty snacking that goes along with football playoff games. To that end, A Bunch of Carrot Farmers is unveiling "Carrot-o-vations," a fully integrated campaign encompassing updated Baby Carrots football packaging, a website featuring a sweepstakes, consumer prizes, and in-store collateral.
Consumers can log onto babycarrots.com to participate in the contest for a chance to win "awesomely useless—but collectors' edition!—swag." Among the prizes are advanced Carrot Vision Goggles (orange night-vision goggles), the Double Neck Carrot Axe (double-neck guitar with custom orange paint job), Carrot Hoopty Spinners (orange spinner rims) and Carrot Domes (beer- and carrot-carrying helmets).
By mid-January, football-branded 28.8-ounce bags of baby carrots will be available at Walmart, Meijer, H-E-B, Price Chopper and OK Grocery stores across the United States.
"Snacking and football is a match made in junk-food heaven," noted Bolthouse Farms CEO Jeff Dunn.
Developed by Boulder, Colo.-based ad agency CP+B, the "Eat 'Em Like Junk Food" campaign first launched last September in Syracuse, N.Y., and Cincinnati, Ohio, and has so far delivered results beyond the growers' expectations.