Anthem Blue Cross Launches iPhone App
Insurance provider Anthem Blue Cross has launched a free application for the iPhone designed to help Anthem members make healthy choices as they grocery shop or prepare their weekly grocery store list before leaving home.
Called the Anthem Blue Cross Grocery Guide for Better Health, the App contains information on more than 100,000 unique, branded food and beverage products, including key nutritional facts and how that product compares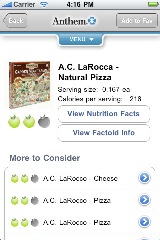 nutritionally with other products within the same category.
"Today people are busier than ever before and the trip to the grocery store can feel like just one more chore to race through and check off your list, but the choices you make can impact the health of your family for the entire week," said Pam Kehaly, president of Anthem Blue Cross. "Our hope is that this tool will make choosing the healthiest foods for your family a little easier."
Designed to simulate grocery store aisles, the Anthem Grocery Guide lets users browse the virtual aisles of their iPhone for the most nutritional food choices. They can also search by a specific brand using the search feature, and build a healthy grocery list by saving products to their favorites and then emailing the list to themselves or other shoppers in their family.
The Anthem Blue Cross Grocery Guide also includes tips on how to select and store specific fruits and vegetables. This information along with fun facts about each fruit and vegetable is provided by Produce for Better Health Foundation, a non-profit organization with the mission of motivating people to eat more fruits and vegetables through their Fruits & Veggies -- More Matters national health initiative.
The Anthem Blue Cross team worked with SmartNow's chief medical officer, Dr. Melina Jampolis and a team of top dietitians who nutritionally ranked grocery store products and used specific criteria for determining the healthier choices.
Anthem Blue Cross is the trade name of Woodland Hills-based Blue Cross of California. Anthem Blue Cross and Anthem Blue Cross Life and Health Insurance Company are independent licensees of the Blue Cross Association.