Amazon Introduces Storefronts for Small Businesses
Get great content like this right in your inbox.
Subscribe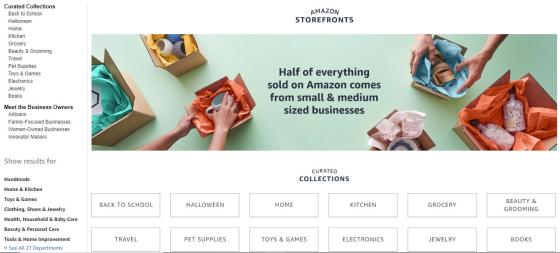 Amazon has launched Storefronts, a new store that allows customers to shop exclusively from small to medium-sized businesses in the United States, with a variety of product categories, including grocery, pet supplies and kitchenware.
Storefronts features a curated collection of more than 1 million products and deals from nearly 20,000 businesses and includes videos and stories so consumers can learn more about the businesses they're buying from.
"We've created a custom one-stop shopping experience for customers looking for interesting, innovative and high-quality products from American businesses from all across the country," said Nicholas Denissen, VP for Seattle-based Amazon, adding that the company "first invited businesses to sell on Amazon nearly two decades ago, and today, small and medium-sized businesses are a vital part of Amazon's large selection and commitment to customers. We're championing their success with this new store and a national advertising campaign featuring a successful Michigan business selling on Amazon to customers across the U.S. andar worldwide."
Amazon Storefronts offers customers:
Curated American Collections: Customers can shop from more than 25 product categories to discover items from U.S. innovators, artisans, entrepreneurs and more, including products like protein sandwich cookies.
Storefront of the Week: Each week, a featured U.S. business will star in a video to help introduce the many faces and types of businesses that customers are shopping from on Amazon Storefronts.
Meet the Business Owner: This rotating exploratory feature profiles U.S. small and medium-sized businesses selling on Amazon. At launch, customers can learn and browse more than a dozen businesses that are Family-focused, Artisans, Innovator-Makers and Women-owned Businesses.
National Commercial
To support the launch of Storefronts, Amazon is also debuting its first-ever national television commercial, featuring real businesses that sell on Amazon and showing how they get their products to customers all over the world. To help illustrate the growing number of businesses on Amazon, a series of business logos comes together at the end of the ad to form the Amazon smile logo.
Earlier this year, Amazon introduced the "Small Business Impact Report," which found that small and medium-sized businesses selling on Amazon are estimated to have created more than 900,000 jobs worldwide. In 2017, more than 300,000 U.S.-based small and medium-sized businesses started selling on Amazon.