All of Hy-Vee's PL Shelf-Stable Tuna Now Responsibly Sourced
Get great content like this right in your inbox.
Subscribe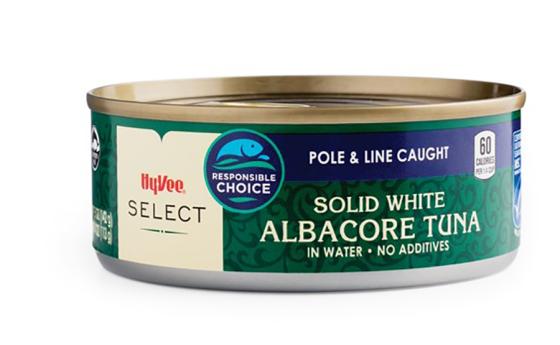 Hy-Vee Inc. has revealed that 100 percent of its private-brand shelf-stable tuna products are now sourced from environmentally preferred fisheries. The news comes less than a year after the West Des Moines, Iowa-based grocer expanded its seafood procurement policy to include shelf-stable tuna.
"We continue to push forward in our seafood sustainability goals and add categories to our list of responsibly sourced items," noted Hy-Vee EVP and Chief Merchandising Officer Brett Bremser. "Offering Hy-Vee private label shelf-stable tuna to that list is a major accomplishment. These items are value-oriented and offer our customers a seafood option that promotes well-being for them and for our environment."
In keeping with its seafood procurement policy, Hy-Vee's private-brand shelf-stable tuna products are sourced from fisheries that are, in order of preference, certified by the Marine Stewardship Council with supply chain traceability (Chain of Custody), and/or Green or Yellow rated by the Monterey Bay Aquarium's Seafood Watch program, and/or engaged in fishery improvement projects making measurable and time-bound progress.
To address nonenvironmental risks in its shelf-stable tuna assortment, Hy-Vee has implemented multiyear due diligence plans to boost product traceability, ensure tuna comes from legal and verifiable sources, and further social responsibility.
Additionally, the grocer recently became a signatory to a letter to the Western and Central Pacific Fisheries Commission (WCPFC) requesting the treaty-based international organization to put measures in place to address major issues that are crucial to sustainable tuna management.
"Hy-Vee continues to lead by example," said Kathleen Mullen-Ley, project director at Santa Cruz, Calif.-based nonprofit sustainable seafood consultancy FishWise, a longtime partner of the supermarket chain. "By transitioning their private-brand shelf-stable tuna products to environmentally responsible sources, they provide proof to the rest of the U.S. grocery retail market that it is possible to start taking meaningful action now."
Hy-Vee first unveiled its new shelf-stable tuna policy in February 2017, and has continued to upgrade its seafood assortment, most recently rolling out Fair Trade service-case tuna and responsibly sourced sushi. It originally introduced its seafood procurement policy in 2012.
An employee-owned corporation, Hy-Vee has more than 245 retail stores across eight Midwestern states.