All Eyes On Pies For Thanksgiving Week Searches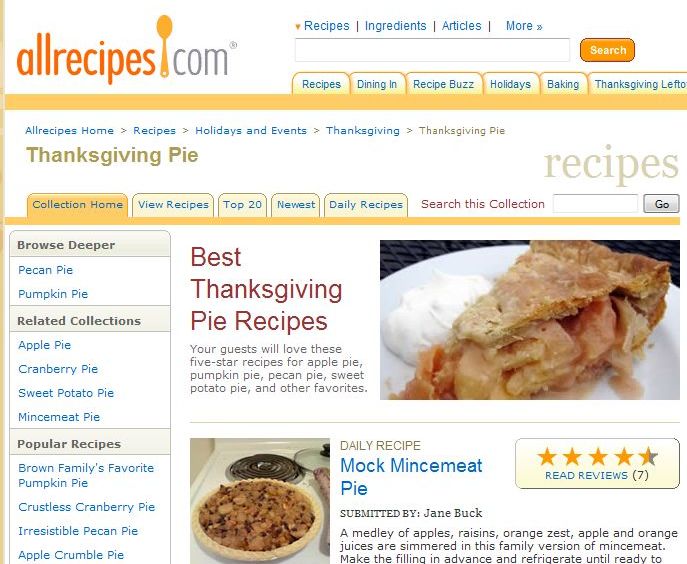 Pies were among the most-searched for items Thanksgiving week at online consumer food site Allrecipes.com, a Reader's Digest Association (RDA) brand that saw more than 22 million visits during the holiday week.
Three pies in particular made the top five Thanksgiving searches: Pumpkin, Pecan and Apple, according to the site. Seems pie-mania's got long legs; Allrecipes' post Thanksgiving weekend traffic still 25 percent above average as home cooks sought to explore the hundreds of recipes in the Thanksgiving Leftovers Recipe Collection.

"Each year at Thanksgiving, Allrecipes is reminded how grateful we are to have such a fun and engaged community of home cooks across the nation," said Lisa Sharples, president of Allrecipes.com. "On Wednesday, Nov. 24, Allrecipes broke its one day traffic record as over 4 million people visited the site, viewing nearly 27 million recipe pages to prepare for their Thanksgiving feasts."

Top stats for Thanksgiving 2010
The Most Popular Thanksgiving Recipes:
• Yummy Sweet Potato Casserole
• Turkey Brine
• Perfect Turkey
• Sweet Potato Pie
• Cranberry Sauce
Most Searched For Terms
• Pumpkin pie
• Green Bean casserole
• Stuffing
• Pecan pie
• Apple pie
Seattle?based Allrecipes receives 435 million annual visits from home cooks who discover and share food experiences through recipes, reviews, photos, profiles, and blog posts.