Albertsons Reports Best Q4 Since Buying Safeway
Get great content like this right in your inbox.
Subscribe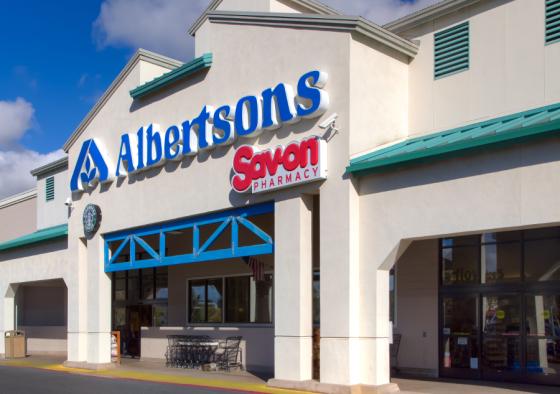 Albertsons Cos. has reported its strongest fiscal fourth quarter since its acquisition of Safeway more than three years ago, as well as a healthy 2017 that saw rises in overall and comparable-store sales.
During Q4, the Boise, Idaho-based grocer reported a 1.6 percent increase in overall sales to $14 billion during the 12 weeks ended Feb. 24, compared to the same period a year prior. The company's 0.6 percent rise in comps and higher fuel sales mainly drove the growth, with comps growth benefiting from improvements in customer traffic trends and an increase in average ticket.
Net income for Q4 was $388.3 million, including a $373 million tax benefit, including a non-cash benefit of $390.6 million resulting from the Tax Cuts and Job Act, enacted earlier this year.
For the full year, sales and other revenue rose 0.4 percent to reach $59.9 billion, compared to $59.7 billion in fiscal 2016, primarily driven through new stores and acquisitions, as well as increases in fuel sales, which were partially offset by a 1.3 percent decline in comps. Net income, meanwhile, was $46.3 million, incorporating a $963.8 million income tax benefit, which includes a net $218 million non-cash benefit from the reversal of a valuation allowance during the year and a net non-cash benefit of $390.6 million in Q4 that resulted from the Tax Act.
"We are very encouraged by the trends in our business as we returned to positive identical store sales and saw operating income and adjusted EBITDA improvements during the fourth quarter," said Bob Miller, chairman and CEO, Albertsons Cos. "We expect to continue the positive momentum into fiscal 2018 with identical store sales growth, as we continue to build and expand our digital offerings to enhance loyalty in store and online, including the recent announcement of a new digital marketplace, which is being launched to expand selection for our customers later this year.

Continued Miller: "In addition, we continue to enhance our Own Brand offerings and increase sales of these high-quality items that are unique to our stores. We believe that these efforts, together with incremental synergies from the Safeway acquisition and the additional cost reduction initiatives we outlined last quarter, will result in adjusted EBITDA of approximately $2.7 billion in fiscal 2018."
Sharing its outlook for fiscal 2018, Albertsons noted that it expects 1.5 to 2 percent comps growth, and its effective tax rate to range from 25 to 27 percent, excluding discrete items.
Other highlights include:
Sales penetration of private label increase 60 basis points to 23 percent in fiscal 2017 when compared to the prior year.
Instacart same-day delivery, as of the end of fiscal 2017, now is available from more than 1,300 stores, with more than 2,000 total targeted for fiscal 2018.
Click and collect – via Albertsons' Drive-Up and Go service – was available at more than 100 stores as of the end of fiscal 2017, with 500 total targeted for fiscal 2018.
Completing the reorganization of its legal entity structure to make Albertsons Cos. Inc. the corporate parent. Moreover, Albertsons Cos. LLC merged with Albertsons Companies Inc., creating Albertsons Companies Inc. as the surviving corporation. This was intended to simplify the company's overall tax reporting and compliance requirements.
Albertsons-Rite Aid Merger
Regarding Albertsons' planned merger with Camp Hill, Pa.-based Rite Aid, Miller shared an optimistic outlook, noting that he's looking forward to creating "a leader in food, health and wellness, with excellent presence on the West Coast and a strong position in the Northeast."
"We will be uniquely positioned to serve our customers' needs," he stated. "We expect to realize significant synergies, both increasing revenues and reducing our costs, that in turn should improve shareholder returns and enable us to reduce debt and enhance financial flexibility."
Rite Aid Chairman and CEO John Standley also shared his optimism for the combined company, which is expected to operate about 4,900 stores, including more than 4,300 pharmacies and 300-plus health clinics, serving more than 40 million customers a week and generating pro-forma combined revenues of $83 billion. Most of the grocery store pharmacies, he added, will be rebranded as Rite Aid.
"The merger will … provide us new levers for growth," he stated, including the opportunities to:
Leverage Albertsons' expertise in food and consumables, as well as its manufacturing capabilities to further transform the front end of Rite Aid stores
Use both companies' private label expertise to create a best-in-class portfolio that increases sales and improves margins
Use existing loyalty programs to leverage enhanced analytics that create stronger relation
Create a world-class omnichannel platform that meets customers when, where and how they want to shop through the various store formats, food and prescription delivery options, and online and mobile capabilities
On March 29, Albertsons Cos. cleared the waiting period under the Hart-Scott-Rodino Antitrust Improvements Act, a major step toward the merging of the two companies. However, several reports have noted that some Rite Aid shareholders plan to oppose the merger, believing the deal undervalues the drug store chain.
Two weeks ago, Albertsons Cos. filed to pull back its plan for an initial public offering (IPO) due to its merger deal – its third IPO stall in as many years.