Albertsons' Next-Gen Concept Off and Running
Get great content like this right in your inbox.
Subscribe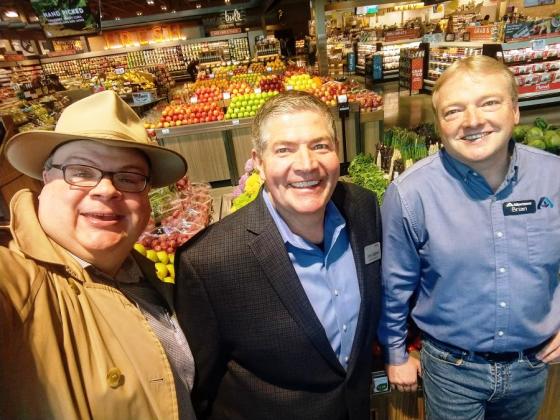 It wasn't just all the great things in Albertsons' new flagship store in Boise, Idaho.
It was the sparkle in John Colgrove's eyes as he told me about each one of them.
Colgrove was leading me on a tour of the retailer's next-generation supermarket, Albertsons on Broadway. Every detail seemed to be the culmination of a life's work: an Albertsons employee since he started his grocery career in 1977, Colgrove is now president of the company's Intermountain Division.
"It became the 'wow' line," Colgrove said of folks lined up for the store's grand opening last July, pausing to take in the spacious fresh area and the sights and aromas of the produce, floral and prepared foods, as well as the bar area in the mezzanine above the main sales floor. "As they walked in, they'd stop and the first word out of their mouth was 'wow.'"
Albertsons on Broadway, just down the road from the company's corporate HQ, is a store of which Colgrove and his team can truly be proud. You can read all about it in PG's January 2019 issue, when it will be our Store of the Month.
But perhaps just as impressive as what the store has to offer is the enthusiasm that Colgrove brings, seemingly undampened by more than four decades in the grocery game.
"We call this our food paradise store," he declared as he talked up the store's "meal in a bag" ready-to-cook dinner solutions, the surprise success of exotic meats like frog legs, and a fresh prepared department that, in his words, "just kills it. This was all about winning in fresh."
Scratch-made products are big here. The most prevalent signage seemed to be "Made In Store." Cooks are cooking. Bakers are baking. Service is unceasing.
Up at Broadway on the Rocks, the store's full bar with a chef-inspired menu, Colgrove described the mountain views as offering the best sunsets in town. He led me to the heated patio, in view of Albertsons Stadium at Boise State University, whose campus sits just across the street; big TV screens allow festive gatherings for game times. "We'll have a band up here to play while the sun's setting -- you won't be able to find a table."
From an emphasis on local products, to healthy refrigerated offerings at the checklanes, to talented chocolatiers turning out decadent treats, to a lavish floral department that's been busy doing special events, Colgrove beamed as he discussed the opportunities for concepts launching at Broadway that can be scaled up for stores all over the division.
And his team is already working on their next next-gen store, twice Broadway's size, scheduled to open next March on the other side of town.
Meanwhile, as noontime approached, crowds thickened as they lined up for lunches of custom entrees, pizza, sushi and carved meats, or grab-and-go salads, soups and sandwiches.
"We didn't want this to be just a grocery store," Colgrove said. 'We wanted it to be a gathering place."
So far, it looks like Albertsons on Broadway is everything its shoppers need it to be.