5 Ways Grocers Can Boost Their Perimeter in 2018
Get great content like this right in your inbox.
Subscribe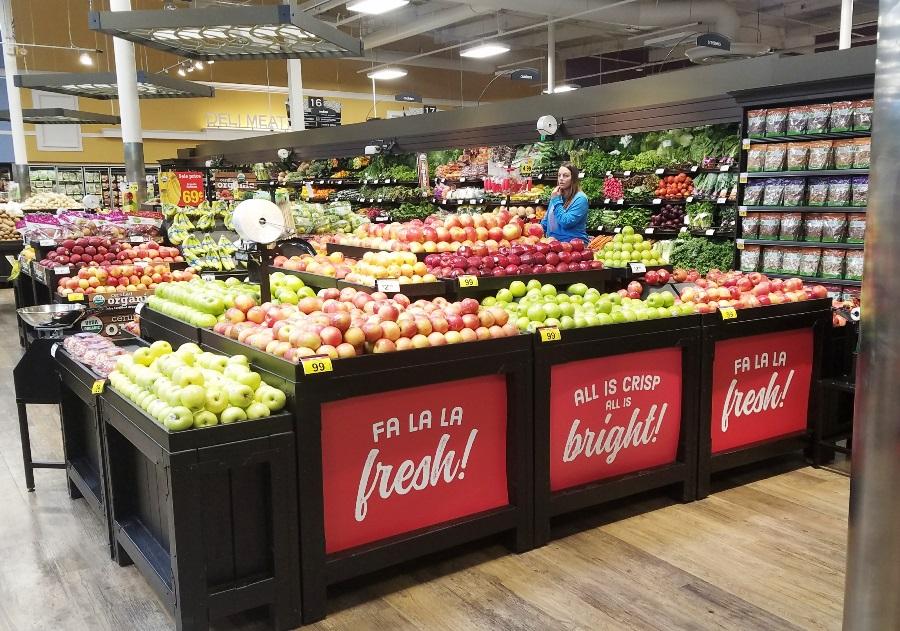 From produce to prepared foods, the perimeter is where the action is.
But as competition heats up from all directions, grocery retailers will need to constantly look for new ways to keep their fresh areas distinctive. While fresh produce, meat and seafood, and prepared foods still give brick-and-mortar stores an edge over the looming threat of online shopping, retailers will need to be proactive to make sure that they're unique, solution-focused and worthy of repeat visits.
Here's how retailers and observers say grocers can keep the fresh perimeter fresh in the coming year:
Solution Destination
More often than not, consumers are shopping for meals or occasions, not random items. Create solution destinations offering value-added products cross-merchandised with complementary products to maximize convenience.
"Chopped and ready-to-eat fruits and vegetables are an easy sell, especially if by other ingredients," says John Griesenbrock, VP of produce and HealthMarkets for West Des Moines, Iowa-based grocer Hy-Vee Inc. "Items such as sliced squash, peppers and other vegetables are an easy sell in our meat departments, merchandised with steak, chicken or pork.  A lot of customers have a hard time deciding on the main course, so when they decide that chicken breast is going to be the main dish, the easy sell is the side dish, so a container of cut-up squash is the perfect accompaniment. Many stores that merchandise the side dishes next to the main dishes see no shrink -- it's all extra sales and profit."
Eric Richard, education coordinator for the Madison, Wis.-based International Dairy-Deli-Bakery Association, notes three factors in play:
"First, consumer interest in fresh prepared foods continues to grow (3.8 percent growth over the last four years); away-from-home food spending has surpassed at-home food spending, illustrating consumers' desire for already-prepared meal options; and continued evolution of meal occasions and rituals, as some no longer adhere to the Sunday dinner and three-meals-a-day mindset, and whereby snacking is now part of the daypart model."
Winning retailers will understand and implement current trends in shopper eating patterns, according to Richard. "Food is an emotional experience for many consumers," he says. "Retailers can appeal to these shoppers by marketing meal solutions in their in-store delis and focusing on how they can help families better connect through eating occasions.".
His suggestions:
• Employ in-store messaging, advertising and social media that position the store as the best option for prepared food solutions.
• Offer a variety of prepared-meal dinner options that are quick, convenient and innovative.
• Focus on messaging that reminds shoppers of meal occasions with families and friends, and how a store's foodservice options are the perfect solution.
Additionally, eating healthy is increasingly top of mind, Griesenbrock observes. "Our focus is to get produce out of the traditional aisle and incorporate it into other departments," he says, suggesting berries with yogurt (dairy case) or angel food cakes (bakery).  
Consumers are increasingly turning to ready-to-eat meals and meal kits, notes Michael Falck, co-founder and U.S. president for Atlanta-based retail-planning firm Relex Solutions.
"Grocers seeking to pull shoppers into their stores should focus on offering healthy and convenient meal options, including in-store restaurants," Falck says. "Convenience offerings are a great way for traditional grocery retailers to compete with online grocers and meal delivery services."
Such offerings focus on the consumer's need for personalization as well as convenience, points out Sarah Schmansky, director of fresh for Chicago-based Nielsen.
Falck further recommends intra-day space resets; for example, refrigerated space near the front of the store to offer breakfast items in the morning, lunch items at midday and dinner options in the evening.
Fresh Experience
Despite its recent and projected growth, Richard asserts that grocery ecommerce lacks one important characteristic that brick-and-mortar can deliver on: experience. It's an opportunity, Schmansky further notes, to engage consumers.
"Shoppers no longer view supermarkets as simply a place to purchase groceries; rather, they see them as places to learn about their food, get ideas on how to prepare meals, sample products, and learn about food-and-beverage pairings," Richard says. "The sights and smells of fresh departments already lend themselves to this concept; for example, the smells of fresh bread baking in in-store bakeries."
Local Focus
From food to outreach, consumers appreciate when retailers demonstrate a connection to the local community.
"More and more consumers are looking for locally grown and produced food, from ingredients like locally grown wheat in baked goods, to locally raised and produced beef, pork and chicken products found in deli and prepared food departments," Richard says. "Retailers can capitalize on this trend by working with local producers and growers in getting their products to their store."
It's also important to tell the products' stories through in-store messaging and external marketing channels like social media. "Transparency is a very important consideration among many shoppers," Richard says. "Storytelling really helps retailers connect with shoppers who value the integrity of the food they purchase and consume."  
Joe Watson, VP of domestic business development for the Newark, Del.-based Produce Marketing Association, agrees. "Consumers are looking for those types of connections, and they want to know more about where their food and floral products come from," says Watson, former produce director for Thibodaux, La.-based grocery chain Rouses Markets.
Retailers can communicate about their community support through activities with schools, churches, food banks, civic groups or other avenues. "Make that 'caring' connection," Watson advises, "and, because produce and floral are so important in the diet and the happiness factor, that connection is strong."
Sustainability
The increased desire for transparency also includes care for the environment.
Hy-Vee has had success with its Misfits program in the produce department, Griesenbrock says: "These 'cosmetically challenged' fruits and vegetables increase landfill diversion while offering discounts to our customers. In a time when up to 40 percent of the farmer's harvest goes unsold, this is a way to sell 'ugly' produce to the consumer who doesn't care what it looks like, while the product tastes just as good as anything else in the aisle."
According to Watson, retailers can communicate how they're working to reduce waste through specific company initiatives, among them offering reusable shopping bags to customers, using returnable packaging containers to limit their landfill needs, and even working with local producers on composting programs. "Today, customers want to know that their store cares as much about these issues as they do," he says.
Authentic Flavors
Today's fresh-department experience is all about exploration, Richard says.
"Driven by the diverse ethnic makeup of Millennials and Gen Z, all generations nonetheless are looking beyond traditional products and flavors to try cuisine, tastes, flavors and ingredients originating from different cultures such as Southeast Asian, African and Middle Eastern," he notes. "Prepared food departments can quickly incorporate these taste trends into their offerings; other fresh departments potentially follow suit as well, both in terms of products and ingredients."
Further, an increasing number of consumers want those flavors to come with food that's better for them, or that addresses specific dietary needs, such as being gluten-free.  
"If you can make their shopping trip just as easy as for them as for others, then you have won a primary customer," Griesenbrock asserts. "Lettuce wraps instead of bread seem to be gaining momentum, and so is the need to merchandise lettuce and other varieties of greens.  If you can bring the recipe to life with the marinades, steak, greens and other items such as peppers, the trick is marketing it as a gluten-free option."