5 Key Advantages of Epoxy and Urethane Supermarket Flooring
Get great content like this right in your inbox.
Subscribe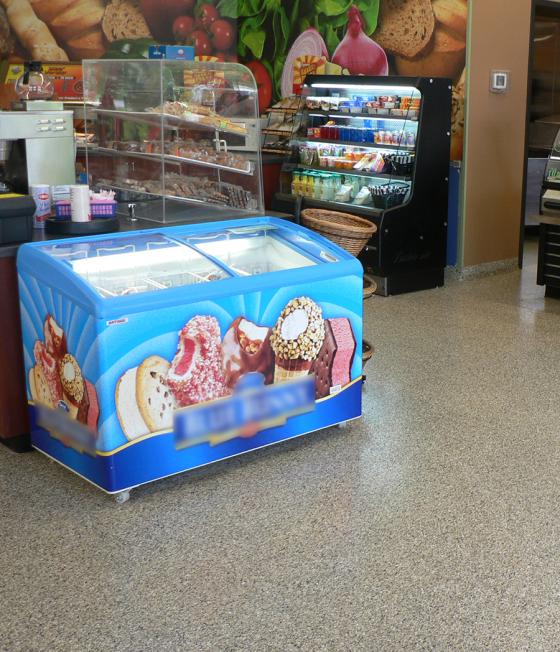 Some people enjoy grocery shopping. Others don't. Whether we're referencing the frequent customer who'll stroll through every aisle, or the pre-dinner consumer who'll march into the store with purpose, you can bet that having stylish and hygienic-looking flooring can inspire shoppers to stay in the store a bit longer. After all, ambiance is everything in brick-and-mortar locations.
Another important aspect of supermarket flooring is durability, which can be compromised by style in some types of commercial floor coverings. The two characteristics must be reconciled, however, to ensure good customer experience and cost-effectiveness. In this article, we'll discuss how supermarkets can benefit from the design possibilities and durability of epoxy and urethane resinous flooring systems.
Below are just a few of the many advantages that epoxy and urethane flooring offers busy supermarkets:
Ambiance
It's a given that grocery store managers hope to have their customers spend as much time as possible walking the aisles. If customers sense the facility is outdated or in poor repair, or perceive the environment to be unclean or hazardous, they'll come in for their one item and get out fast. In contrast, when a customer enters a welcoming atmosphere, they are more likely to have a positive experience, feel like taking a stroll and stay a bit longer. An individual's first impressions upon entering can determine their willingness to venture deeper into the store to explore displays and offerings, greatly increasing the chances of a fuller cart at checkout.
With increasing competition from online grocery delivery, crafting a unique experience for customers – a reason to visit the store – has encouraged the current boon in luxury and gourmet supermarkets. Fashioning an upscale ambiance that will enhance customer experience can be easy, even on a limited facility budget. High-performance decorative epoxy and urethane flooring provides a variety of options to create the perfect welcoming grocery store atmosphere. For example, choose a warm welcoming color that matches your brand and ties into your store décor. Customers will be sure to enjoy the shopping experience while filling their carts.
Durability
Grocery stores see thousands of customers daily. Foot and cart traffic, forklifts, and dollies, along with outside elements that get tracked in, can cause extreme damage to unprotected or poor-quality floors over time. That's why it's important to install state-of-the-art flooring that can handle excessive wear and tear and meet the demands of the industry.
USDA-compliant epoxy and urethane flooring systems are designed to be durable and long-lasting. These systems incorporate multiple layers of high-performing materials that can help to keep the concrete floor safe, while increasing surface strength, abrasion resistance and chemical resistance significantly. Choosing such a system is an optimal way to help ensure that your floors last through years of hectic, pre-dinner grocery store runs.
Versatility
Today's experiential supermarkets offer more than just groceries. They often serve as virtual town centers, incorporating in-store coffee shops and cafés, pharmacies, specialty delis, bakeries and public restrooms, plus back-of-the-house storage and warehouse space, a loading dock and employee facilities. Grocery stores need reliable, safe and long-lasting flooring not only for the main retail spaces, but also for all of the ancillary spaces as well. Epoxy and urethane flooring offers versatility that can do just that.
These protective floor coverings are highly adaptable and can be applied in multiple environments. For example, the high-tech floor coating system installed with a decorative design in the main retail aisleway can perform outstandingly in the storage facility or loading dock when installed with an economical utilitarian look.
Slip Resistance
Mistakes happen. With the amount of movement of foods and liquids in a grocery environment, the risk of spills is high. Resinous flooring systems are an ideal solution for helping combat against potential slip-and-fall situations where spills may have occurred. Thanks to the many different texture options and finishes, you can customize the amount of texture that will help keep customers safe, while allowing for easy cleanability.
Creativity
Finally, resinous flooring systems are available in a variety of colors and decorative options that allow you to design your grocery store however you please. Therefore, you can get creative, as the array of standard and custom colors can match any brand. The many different styles of epoxy flooring will open your eyes to a whole new world of choices for your floor decor. Some design options include:
Decorative metallic flooring systems

are one of the most popular and elegant epoxy options on the market. This type of floor coating combines metallic pigments blended with epoxy to create a trend-forward surface with multidimensional hues. There are different ways of applying metallic flooring. For example, by using two or three metallic color options, you can mimic the look of marbling, or, depending on how the metallic portion is applied, you can create a cloud-like appearance or round bubbles. Either way, you'll have a unique, beautiful and functional floor.

Decorative Flake Flooring Systems

consist of colored flakes that can be distributed randomly throughout the flooring to create an organic and natural look. The result is a long-lasting terrazzo-like flooring option. You can also choose to cover the entire floor with the flake to create a beautiful multicolored finish. 

Decorative Quartz Flooring Systems

offer a blend of ceramic-coated or natural quartz granules distributed throughout the flooring. Available in solid colors and blends, this is a suitable flooring option for added texture and decorative appeal. 
Epoxy and urethane floor coatings are a durable and versatile solution for any grocery store. The variety of options can open a vast set of design opportunities, and you'll never have to compromise style for durability and function with resinous flooring.