08/16/2017
United Fresh Hires Senior Health-and-Wellness Director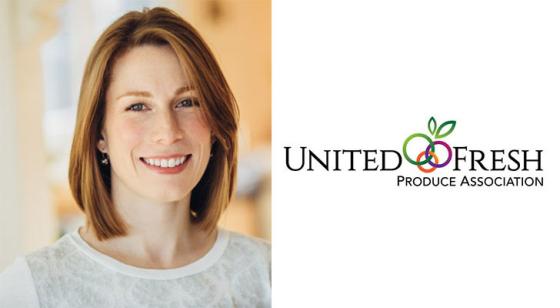 United Fresh Produce Association has brought aboard Kate Olender as its senior director of health and wellness, a new position created to provide leadership to nutrition and health programs within the United Fresh Start Foundation, and to support the organization's business programs related to health and wellness.
Embarking on her new role on Sept. 5, Olender will provide strategic direction in carrying out the foundation's mission to boost children's access to fresh fruits and vegetables. She will also aid collaboration and fundraising within the industry and with public-health partners, and provide nutrition leadership for association members in education, marketing, trade shows and other programs.
"Kate has a great background supporting public-health and community programs, as well as building food and nutrition programs with companies in the food industry," said United Fresh President and CEO Tom Stenzel. "She brings great energy and passion to our foundation team, joining Director of Programs and Partnerships Andrew Marshall as we seek to improve lives for kids with better access to fresh produce."
Currently account supervisor and new business knowledge manager for food and nutrition at public relations agency Edelman, Olender was previously coordinator of the Healthy Corner Store initiative at the Food Trust, in Philadelphia, and food systems project manager with the Northwest Initiative, in Lansing, Mich.
"I am thrilled to join the United Fresh Produce Association and support the industry's good work in encouraging fruit and vegetable consumption among youth," said Olender. "I am eager to offer my experience working with children and our food system to United Fresh's members and partners."
Washington, D.C.-based United Fresh brings together companies across all segments of the fresh produce supply chain, including growers, shippers, fresh cut processors, wholesalers, distributors, retailers, foodservice operators, industry suppliers and allied associations.