RIP: Bruno Garisto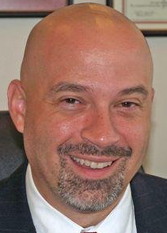 Bruno Garisto, vice president of center store merchandising and sales for Pennsylvania-based Weis Markets, died suddenly Aug. 10 at age 45.
During his career in the food industry, Garisto worked in supply chain management, merchandising, marketing, private brands, procurement and sales in the United States and abroad. He joined Weis Markets in 2004 as director of center sales and subsequently worked as director of private brands before being promoted to his most recent post. Earlier in his career, he worked for Ahold Indonesia, Ahold USA, Giant Food Stores, Daymon Worldwide and Hillandale Farms.
A native of Harrisburg, Pa., Garisto earned a bachelor's degree in food marketing from St. Joseph University's Academy of Food Marketing; in recent years, he served on the school's board of governors. He earned a master's degree in business administration from Bucknell University. Garisto also was a member of Toastmasters International.
Garisto is survived by his wife, Carolyn; son Nick; daughter Katie; his parents and two sisters. Visitation was scheduled for Tuesday evening, with a funeral Mass following on Wednesday.
The family has asked that memorial donations be made to the Lewisburg (Pa.) Area Music Association and Lewisburg Veterinary Hospital's Mack and Molly fund, which is named after the Garisto family's dogs.