Ric Jurgens Wins Spirit of America Award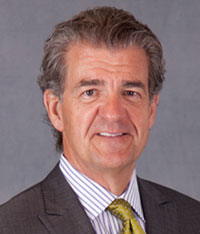 Ric Jurgens, chairman and CEO of Hy-Vee Inc., received the National Grocers Association's Spirit of America Award.
One of NGA's top honors, the award was presented to Jurgens (pictured at left) during a ceremony at the Nebraska Grocery Industry Association's recent annual legislative dinner, to recognize his life-long leadership in the grocery industry.

"Ric has been a steadfast leader in our industry for so many years, always leading the way with his vision, innovation and compassion toward others," said NGA President and CEO Peter Larkin, who presented the award. "Our industry has not only benefited greatly from his commitment, service and dedication, but so too has Hy-Vee and the customers and communities it serves."

A 42-year veteran of Iowa-based Hy-Vee, Jurgens has spent his entire business career with the company, serving as a store manager, district manager, regional manager, senior VP, executive VP and chief administrative officer, president and, his current capacity, chairman and CEO. Jurgens plans to retire from the company June 1.

During his tenure at Hy-Vee, the company has grown to 235 stores in eight states and has increased sales to a record $7.3 billion for 2011, ranking it among the top 25 supermarket chains and the top 50 private companies in the United States. An Iowa native, Jurgens has received numerous awards for his industry and community work.

The NGA Spirit of America Award, established in 1982, honors key industry and community figures who have provided leadership in the areas of community services and government relations on behalf of a free and independent food distribution system.

NGA is the national trade association representing the retail and wholesale grocers that comprise the independent sector of the food distribution industry.