Kroger's Dillon to Retire in January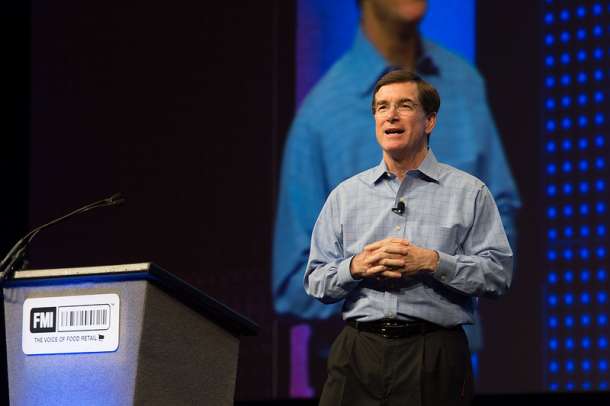 David Dillon will retire as CEO of The Kroger Co. effective Jan. 1, with president and COO Rodney McMullen ascending to the top spot as part of corporate succession plans announced today.
The 62-year-old Dillon (pictured at left, addressing this year's FMI FutureConnect conference), a 37-year Kroger veteran who has been CEO since 2003, will continue to serve as chairman of the board through Dec. 31, 2014.
"As Kroger implements its strategic growth initiatives, the time is right for the transition of leadership," Dillon said, expressing his "delight" over the selection of McMullen as his successor. "Rodney has played a leadership role in every major decision Kroger has made for the past 25 years, including the development and implementation of Kroger's Customer 1st approach as well as our current growth strategy. He is ready to be CEO. I have been honored to lead this great company for over 10 years and look forward to assisting Rodney and the board in the transition while continuing to serve as chairman."
McMullen, 53, joined Kroger in 1978 on a part-time basis on a stock crew and has been president and COO since 2009 and a director since 2003. He previously held a variety of senior management positions, including vice chairman; executive VP of strategy, planning and finance; and CFO.
"I am honored to have this unique opportunity to serve our company and gratified by the board's confidence in me," McMullen said. "I am excited to lead our efforts to build on Kroger's market position and competitive advantages to drive value for our shareholders and to strengthen our deep connection with our great associates, our millions of customers and the communities we call home."
McMullen's successor as COO will be named at a later date. 

"On behalf of the board, I thank Dave Dillon for an extraordinary job as CEO and throughout his distinguished career at Kroger," said Robert D. Beyer, Kroger's lead director. "Under his leadership, the company has consistently delivered value for shareholders, customers and associates. The board has planned carefully for this leadership succession. We are confident Kroger will continue its growth momentum during the transition and under Rodney McMullen's leadership. Rodney has the right skills and experience to build on Dave's accomplishments and leverage Kroger's strong platform in the years ahead."
Cincinnati-based Kroger, the nation's largest traditional grocer and Progressive Grocer's 2013 Retailer of the Year (to be featured in the October 2013 issue), operates 2,418 supermarkets and multidepartment stores in 31 states under two dozen local banner names including Kroger, City Market, Dillons, Jay C, Food 4 Less, Fred Meyer, Fry's, King Soopers, QFC, Ralphs and Smith's.