Kroger Names Grieshaber to Lead Dillon Stores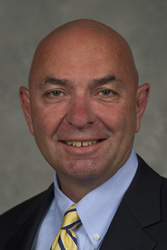 Joe Grieshaber has been named president of the Kroger Co.'s Dillon Food Stores Division, succeeding John Bays, who is retiring after 42 years with the Cincinnati-based grocery chain.

"Joe's merchandising and management experience will serve our associates and customers well," said Rodney McMullen, Kroger's president and COO. "We look forward to Joe's leadership at Dillons as we continue to focus on improving our customers' overall shopping experience."

Grieshaber, 52, began his career with Kroger in 1983 as a store manager trainee in Nashville. He has held a variety of leadership roles, including meat merchandiser, zone manager and VP of merchandising. Most recently, Grieshaber was group VP of perishables merchandising and procurement for Kroger, a position he has held since 2003.

"We are very grateful to John for his tremendous contributions to our company during his career with Kroger," Grieshaber said of Bays. "Under John's leadership, Dillons continued to grow and sharpen its focus on serving customers."

Dillon Food Stores, based Hutchinson, Kan., operates 91 stores in Kansas, Missouri and Nebraska, and employs more than 11,500 associates.

Kroger operates 2,470 supermarkets and multidepartment stores in 31 states under two dozen local banner names, including Kroger, City Market, Jay C, Food 4 Less, Fred Meyer, Fry's, King Soopers, QFC, Ralphs and Smith's.