Industry Pioneer Receives NTF Lifetime Achievement Award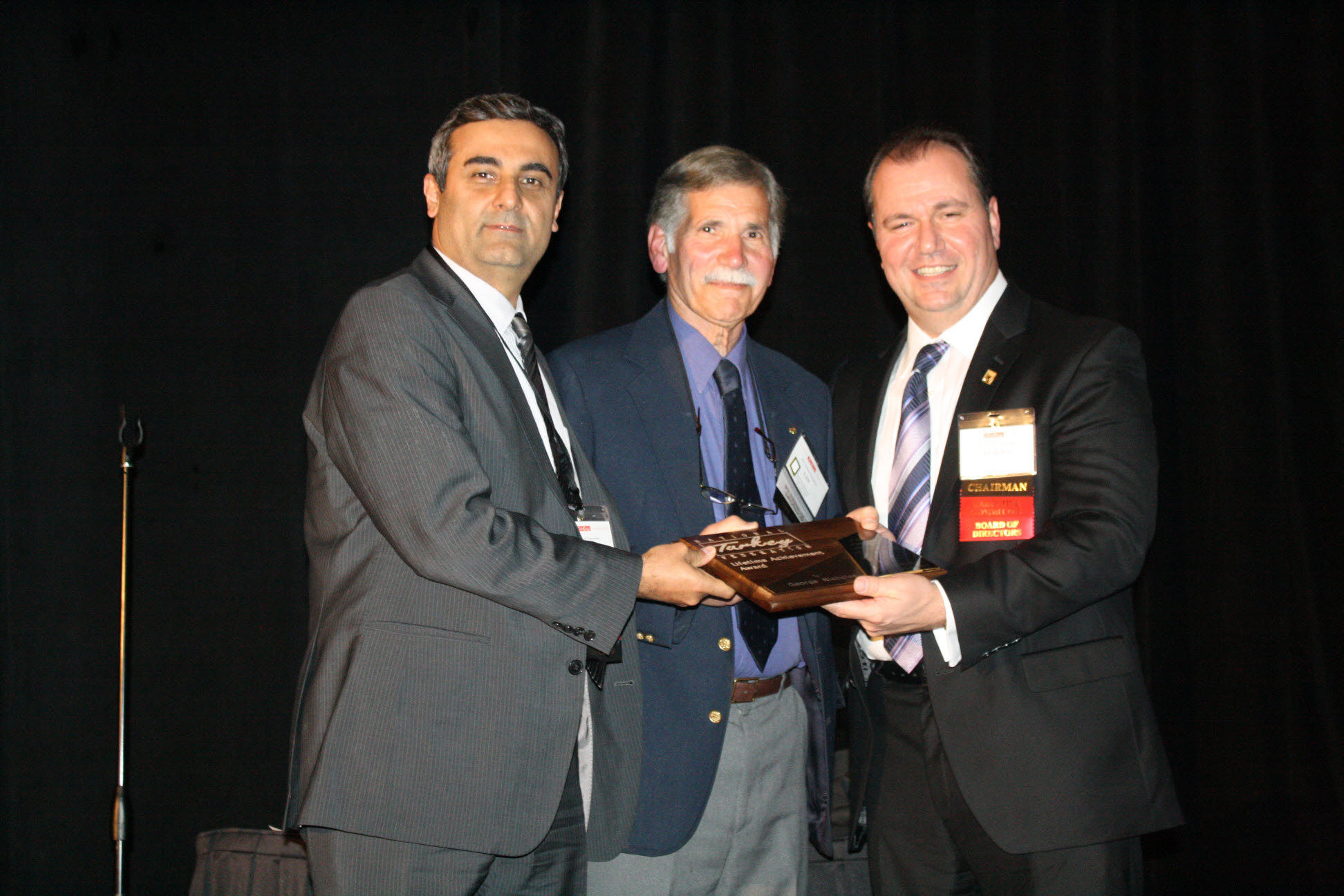 The National Turkey Federation (NTF) honored George Nicholas, founder of Nicholas Turkey Breeding Farms, with the federation's Lifetime Achievement Award. The award was presented last month during the Washington-based trade group's Annual Convention in Tucson, Ariz. Nicholas, who died in 1985, received the award posthumously for his dedication to creative innovation in turkey production.
Jihad Douglas and Yan Ghazikhanian of Huntsville, Ala.-based Aviagen Turkeys accepted the award on behalf of Nicholas' family and the company he founded.
In presenting the award, NTF chairman Yubert Envia noted: "There are many people who undoubtedly could claim to have a hand in the creation of the broad-breasted white turkey we know today. However, if you want to know who is responsible for putting the modern commercial production on the dinner plates of millions of Americans, there is only one name: George Nicholas."
Nicholas began raising and breeding turkeys in 1939 when he founded Nicholas Turkey Breeding Farms in California. His Nicholas Bronze Turkey was soon considered one of the best in the industry.
"Of George's many skills, the one that stood out above all others was his ability to listen to the customer and gauge the direction in which the industry was heading," said Envia. "He saw that the chicken industry was moving steadily toward white birds, and he understood that the turkey industry would need to make the same conversion."
In 1978, Nicholas sold his company to investment and equity firm IBEC, which eventually became Arbor Acres and is now part of the Aviagen Group.
The award isn't Nicholas' first NTF honor. He received a "special service award" from the federation in 1965 and in 1983 was the first turkey breeder inducted into the U.S. Poultry Industry's Hall of Fame.
Reflecting on Nicholas' myriad industry innovations, Envia said in closing: "Few people can truly say that their legacy lives on long after they are gone, but 25 years after his passing, George's legacy not only lives but it continues to grow."
NTF first presented the Lifetime Achievement Award program at its 1946 Annual Convention. Since that time, the honor has been bestowed on 66 recipients, among them turkey industry leaders, executives of national and state poultry/turkey organizations, allied industry leaders, government officials, university professors, researchers, and journalists