Fresh Meat Trends: Sterling Silver Meats Blends Food, Music and Art in Kenmore Live Studio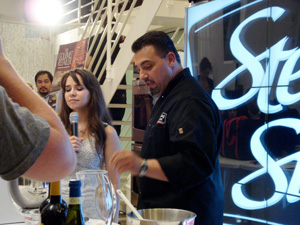 Sterling Silver Premium Meats and celebrity chef Michael Giletto teamed up earlier this month to present "Steak Art: The Culinary Palate Exhibit," at the Kenmore Live Studio.
The innovative "social" culinary show on Facebook had the live two-hour show streaming on its fanpage from its kitchen studio in downtown Chicago.
The segment featured a live studio audience, a cooking demonstration with Giletto, and additional art-related entertainment. Giletto illustrated the versatility of the Sterling Silver brand of Wichita, Kan.-based Cargill Meat Solutions by showing the audience how to create three flavorful, culinary-inspired dishes with just one cut of meat.
An inspiring and accomplished chef, Giletto has appeared on both network and local television, such as Food Network's Iron Chef, Chopped, Ultimate Recipe Showdown and numerous other programs. He has also received national recognition from the American Culinary Federation, James Beard Foundation, the National Pork Board and the National Beef Council.
The artistic exhibit theme continued with music by The David Polk Project, which added high-energy jazz to the evening's atmosphere, while local artists each interpreted the event on canvas. After the show, three viewers each won a painting signed by the artist and Giletto.
"[T]he idea of integrating three artistic formats in one evening is truly unique," said Giletto. "This is a groundbreaking approach to culinary creativity, and it is fun to be a part of it. I've been a big advocate of the Sterling Silver brand for a long time, so when they told me about the opportunity, I jumped at the chance to do the show."
Giletto's trip to Chicago also included an Aug. 5 segment on ABC Chicago News, during which he shared some of his recipes using Cargill's Sterling Silver Premium Meats line while promoting his appearance on the Kenmore Live Studio show.
The show aired Aug. 6 from 7 p.m. to 9 p.m. on Kenmore's Facebook page: facebook.com/kenmore.
The brainchild of Chicago-based Suite Partners, Inc. and Kenmore, Kenmore Studio Live TV creates an interactive experience featuring video and social media capabilities unlike anything ever seen in the industry.