FMI Appoints SVP of Communications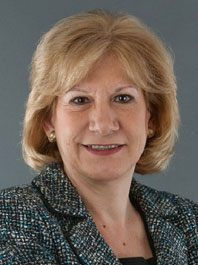 Food Marketing Institute (FMI) today has hired Susan T. Borra as its SVP of communications, effective Dec. 1. Borra joins the trade organization from Edelman public relations, where she was EVP and managing director of nutrition, food and wellness.
In her new role, Borra will be the spokeswoman for Arlington, Va.-based FMI and manage media outreach in support of its public affairs issues, programs, products, services and events. She will also oversee all online communications, including the association's website and social media accounts; provide communications expertise and counsel to FMI members; and direct the activities of the group's Communications Committee and Consumer/Community Affairs and Social Responsibility Committee.
"Her breadth and depth of knowledge about communications and the food industry will greatly benefit FMI and its members," said FMI president and CEO Leslie G. Sarasin. "She has a tremendous capacity for handling challenging communications issues and great insight about issues important to food retailers."
Borra brings more than three decades of experience in the food retailing and food processing industries to her new position. Previously, she was EVP at the International Food Information Council (IFIC), where she oversaw the development of strategic communications programs and public affairs strategies relating to food, nutrition and food safety issues. She also spearheaded the development of consumer education initiatives and programs, and was president of the IFIC Foundation.
A registered dietitian, Borra was president of the American Dietetic Association (ADA) from 2001 to 2002 and chairman of the ADA Foundation from 1999 to 2000.She currently chairs the public information committee for the American Society for Nutrition, and is active with the American Heart Association and the Institute of Food Technologists.
Earlier in her career, Borra was director of consumer affairs at FMI, in which capacity she was responsible for developing and managing nutrition, food safety and consumer affairs programs for retail member companies.
In other FMI news, the organization urged the House of Representatives to pass the Healthy, Hunger-Free Kids Act of 2010 during the "lame duck" session of Congress, in a letter sent this week by SVP of government relations Jennifer Hatcher.
The "critical" legislation "contains important policy changes that lay the groundwork for the modernization of the Women, Infants, and Children (WIC) program," Hatcher wrote, adding: "FMI strongly supports transition of the WIC program to electronic benefits transfer (EBT), away from paper coupons. This change will greatly benefit WIC participants, increase efficiency in the program, and reduce costs of administering the program."
According to Hatcher, passage of the bill would not only "help keep costs low in the system [but also] help our industry ensure WIC-eligible mothers continue to have a pleasant experience when they shop in our stores."