Ask the Chef
Fueled by growing consumer demand for fresh, restaurant-quality prepared foods, a growing number of retailers are hiring experienced chefs and training team members to grow and improve dining options to create an elevated experience for discerning customers.
Prized millennial shoppers, in particular, are looking to culinary experts for inspiration. "Millennials are seeking robust in-store experiences that allow them to see and interact with deli personnel as they have the time, need and desire … In-store chefs can be the go-to people for recipe ideas and culinary inspiration," according to the International Dairy-Deli-Bakery Association's 2015 "Culinary Concierge: Engaging Millennials Through Meals" report.
IDDBA's report also observed that millennials enjoy "engaging in food theater" when time permits, which may include watching their fresh food being prepared by an in-store chef or exchanges varying from "How was your day?" to "How do I prepare this salmon?"
In addition to hiring on-site chefs, retailers like Rochester, N.Y.-based Wegmans Food Markets, well-known for its vast prepared food department, have developed a variety of other creative ways to interact with customers in a culinary context.
Wegmans Menu Cooking School, for example, offers a changing curriculum of seasonal classes for adults and teens led by Wegmans' chefs. The school's mission statement is simple: "To create hands-on and demonstrate culinary experiences that bring Wegmans Menu magazine to life. Our customers learn our easy cooking techniques while increasing their knowledge of our great products in a fun and engaging way!"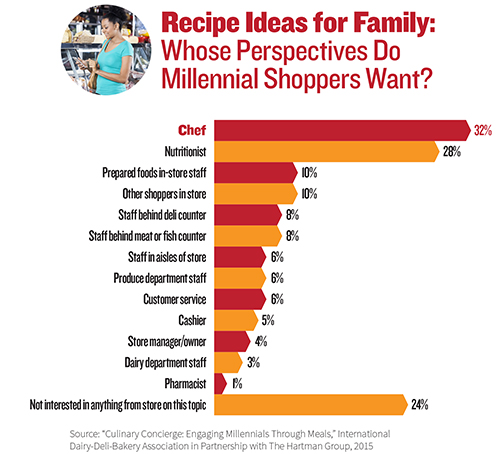 Large-scale retailer ventures
As proof of its commitment to culinary know-how, Cincinnati-based Kroger Co. recently announced plans to invest millions in a new culinary training and education center near its company headquarters. The retailer intends to bring about 20 chefs at a time from around the country to the 12,000-square-foot facility to train and exchange ideas.          
"It will serve as our national epicenter for everything culinary, from equipping Kroger chefs with world-class skills, to elevating food trends, to developing delicious new dishes and corporate brand products," Kroger chief executive officer and chairman Rodney McMullen explained at the retailer's annual shareholder meeting in June 2016. "Our team is creating a curriculum for our associates so they can share not only their passion for food but also their knowledge of food with customers."
Kroger's announcement came on the heels of Bentonville, Ark.-based Walmart's opening of a new culinary and innovation center complete with a test kitchen and sensory lab where Walmart will collect feedback from customers and associates in real time.
"At our new Culinary & Innovation Center, we have a fresh set of capabilities to both imagine the next great items for you and your family, and maintain quality long after the products arrive on our shelves," the retailer's Walmart Today blog noted. "For example, we designed test kitchens as if they were going into our customers' homes. From ovens and grills to microwaves and stoves, these varied setups help us understand the experience customers will have when they bring an item home."
Experts on site
Continuing to strengthen its leadership in prepared foods, Austin, Texas-based Whole Foods Market in December 2015 announced that big-name chef Tien Ho would become its global vice president of culinary and hospitality, a newly created position intended to "elevate the way Whole Foods Market guests experience our food," explained Ken Meyer, executive vice president of operations.
This spring Ho spearheaded the launch of a test kitchen food truck at the flagship store in Austin, which will give the retailer's culinary and prepared food teams an opportunity to experiment with new ideas for store eateries, as well as explore collaborations with chefs and supplier partners. Most recently, the ever-changing menu and concept included a selection of pupusas made with corn masa, filled with a blend of cheeses and topped with meat and veggie combinations. The menu offered vegetarian and vegan options, as well as cinnamon churros, grilled corn salad and plantain chips.
Meanwhile, the Chicago-based Mariano's Fresh Market chain in 2015 hired Ryan LaRoche as its first ever executive chef and vice president of culinary as part of the Kroger-owned retailer's plan to grow and improve its dining options.
"Ryan will bring unparalleled culinary innovation and world class restaurant quality to the Mariano's brand of retail," said Bob Mariano, chairman, president and CEO of Roundy's (Roundy's, former parent to Mariano's, was sold to Kroger late last year). "We look forward to Ryan leading our foodservice business and keeping our prepared food operations at the forefront of what our customers desire and expect!"