03/29/2018
Andrew Balducci, Original Balducci's Owner, Dies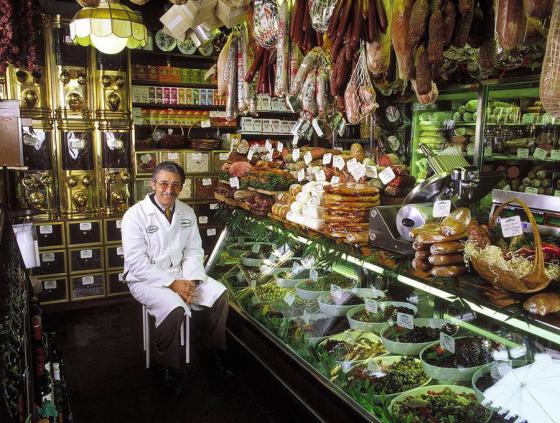 Andrew Balducci, owner of the original Balducci's food store in New York's Greenwich Village, died on March 22 in Roslyn, N.Y., of acute leukemia. He was 92 years old.
Born in Brooklyn and raised in Italy, Andrew Balducci returned to the United States with his family in 1939 at the age of 14. He enlisted in the U.S. Navy during World War II and took part in the invasion of Normandy. In 1946, he and his father opened a fresh produce business on Greenwich Avenue, which evolved into the iconic gourmet food store located diagonally across Sixth Avenue on 9th Street, a move prompted by a steep rent hike at the original site.
Andrew Balducci left the family business in 1960 to work at his father-in- law's masonry, before returning to work with his father in 1968. The son's vision was to launch a European-style food emporium in the new expanded space, featuring "the best of the best" across every food category. Building on the business' reputation for selling high-quality produce, Balducci began importing many Italian specialties, as well as such unusual-at-the-time items as Iranian caviar, French foie gras and Spanish Serrano ham for the first time.
As a result, Balducci's became the New York City shopping destination for food cognoscenti and celebrities alike, earning itself a secure place in the pop culture firmament in the process: The store was even featured in a 1983 Perry Como Christmas special that aired nationally. By that time, the Balducci's catalog, created by Andrew Balducci's wife, Nina, was bringing high-end foods, along with the storied family surname, into households across the United States.
After selling the business in 1998, Andrew and Nina Balducci retired and split their time between homes on New York's Long Island and on Paradise Island in the Bahamas. The original Greenwich Avenue store closed in 2003, the same year that the company was purchased by an investment group led by Bear Stearns Merchant Banking.
Now known as Balducci's Food Lovers Market, the business is a subsidiary of Delaware-based investment firm KB Holding Inc., which acquired it and Kings Food Markets in 2016, and operates stores in New York, Connecticut, Maryland, Virginia and Pennsylvania.
Andrew Balducci's survivors include his wife, whom he married in 1952; two daughters, Marta and Andrea; six grandchildren; and four great-grandchildren.